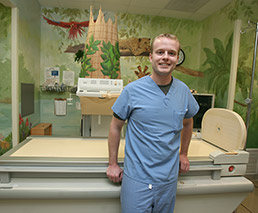 Money doesn't motivate Hoyt, who is moving toward a career in family practice. The Indianapolis native plans to work in sub-Saharan Africa. (IBJ Photo/ Perry Reichanadter)
Steve Hoyt

Age: 25

Hometown: Indianapolis

Year of medical school: fourth

Career aspirations: How much money can be made in the field of medicine is of no concern to Hoyt, who has his sights set on becoming a primary care physician.

Further, he ultimately plans to practice in sub-Saharan Africa, where there's an overwhelming need for physicians.

"Even family physicians make a very good income—a six-figure salary," he reasoned. "The fact that you're making $120,000 a year versus $300,000 a year [for specialists] doesn't matter to me at all. I'd much rather have work, to me, that is rewarding than a comfortable job that I don't find interesting or challenging."

Hoyt became interested in international medicine as a freshman at Purdue University, where he earned a degree in biological sciences. Later, in the summer of 2007, he traveled to the Ivory Coast in West Africa to gain firsthand experience of what life and medicine was like in that part of Africa.

Yet, Hoyt realizes he'll likely have to practice in the United States first in order to pay off several thousand dollars in student loans. That is, unless he can get involved with a program such as Doctors Without Borders, which pays physicians a stipend to live overseas. Another option might be the Indiana University-Kenya Partnership, which pays a salary.

Wages are a common point of discussion among medical school students, Hoyt said, particularly because of the large debts they accumulate upon graduation.

During a recent radiology rotation, a resident doctor confided that he preferred family medicine but decided against it because of the longer hours and less pay amid the additional challenge of raising a family.

"I've heard that sentiment among many students," Hoyt said, "but many choose [a practice] out of interest for it."
--------------------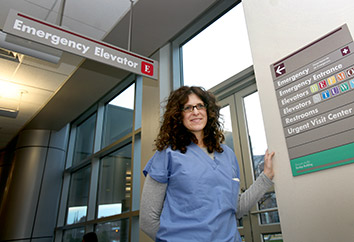 Pasko is bypassing family practice for the "artistic" demands of surgery. (IBJ Photo/ Perry Reichanadter)
Jen Pasko

Age: 26

Hometown: Pendleton

Year of medical school: fourth

Career aspirations: General surgery, and particularly a concentration on breast surgeries, appeals to Pasko and what she described as her creative personality.

"It embodies the art of medicine and all aspects of medicine," she said.
Pasko, a graduate of DePauw University, entered medical school intent on a career in geriatrics. But she ultimately decided her talents might be better suited for surgery. A desire for a faster-paced environment helped sway her decision, as well.

The same reasons led her to never really give family medicine serious consideration.

Yet, Pasko's emergency room clerkship at Wishard Hospital has given her a firsthand view of the scores of patients who come into the ER and have no family doctor.

"You have to know a ton of stuff [to be a family doctor], and a lot of people don't like that," she said. "And they don't get as much respect as they should."

Pasko thinks that could change, now that health care reform enables primary care doctors to receive higher Medicare payments. The reform law also increases Medicaid payments to primary care doctors to match rates paid by Medicare.
--------------------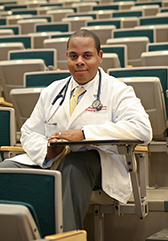 Medical research appeals to Payne more than the "social aspect" in family practice. (IBJ Photo/ Perry Reichanadter)
Gregory Payne

Age: 27

Hometown: Muncie

Year of medical school: fourth

Career aspirations: Payne foresees a future in internal medicine, with a specialization in cardiology. He's unsure where he might want to practice, though he said Indianapolis might suit him fine.

As a fourth-year medical student, Payne is pursuing a combined M.D.-Ph.D. degree that takes seven years to complete and is designed for students interested in a career that incorporates research with clinical care. His doctorate is in physiology.
Payne originally was interested in oncology but switched to cardiology because he thinks the specialty and physiology complement each other better.

MORE FROM IBJ
More medical students are opting for specialty practices, leaving a daunting void.
Click here.
Cardiology also appealed to him because the specialty is involved in diagnosing rare and difficult-to-treat ailments and is at the forefront of the latest treatments, he said.

As a cardiologist, he's eager to care for patients suffering from general heart conditions, acute heart attacks and heart failure, for instance.

For that reason, Payne chose to bypass family medicine.

"The scientific area interested me from the beginning," he said. "Family medicine is more the social aspect. I'm more interested in the academic side."

Payne ultimately might want to pursue a teaching or administrative position at a medical school once he's finished practicing medicine.
--------------------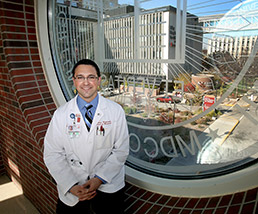 Wolf's operating room experiences are leading him to anesthesiology. (IBJ Photo/ Perry Reichanadter)
Jeremy Wolf

Age: 32

Hometown: Rossville

Year of medical school: fourth

Career aspirations: Wolf, who has taken an untraditional path to medical school, is on course to becoming an anesthesiologist.

That's only after professors encouraged him to apply to medical school while he completed his undergrad work at IU-Kokomo, where he originally strived to become a physician's assistant.
Wolf enrolled at IU in 2003 following seven years of working for a plumbing and mechanical company in Lafayette. A volunteer emergency medical technician, he began full time with an ambulance service in Carroll County once he entered college.

His experience as an EMT initially led him to contemplate emergency medicine. But he developed an affection for the operating room while on an anesthesia rotation during his third year.

Wolf never considered family medicine, simply because of his work as an EMT.

"I wish that would have clicked with me, to fill that need," he said, "but it just didn't click with me as something I'd want to do for the rest of my life."

Wolf plans to remain in Indiana, possibly pursuing his career in Lafayette, Logansport or Kokomo, close to where his and his wife's families reside.

He eventually would like to do missions work overseas because of the difficulty those types of programs have recruiting anesthesiologists, he said.
--------------------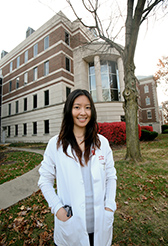 Frustration with pharmacy school drove Wungwattana to the broader field of family practice medicine. (IBJ Photo/ Perry Reichanadter)
Minkkwan Wungwattana

Age: 24

Hometown: Woodridge, Ill.

Year of medical school: third

Career aspirations: Wungwattana is interested in pursuing a career as a general practitioner, most likely in California, where her family is located.
Originally enrolled in Purdue University's School of Pharmacy, she ultimately chose medical school, and family medicine, to be involved in the overall scope of a patient's health.

Wungwattana, who described herself as highly community-oriented, is pleased with her decision, though it was a difficult one.

"One of the frustrations that I had with pharmacy school was managing health care at the level I wanted to be involved in," Wungwattana said. "I wanted more of a complete picture of my patient's health care."

So she transferred two years of course credits from pharmacy school toward completion of a bachelor's degree in health sciences, with a concentration in pre-medicine.

Once enrolled in medical school, she pursued her goal despite the reservations of many other students to do the same.

"When you're in medical school, everyone is like, 'No, you should do surgery or specialties that are supposed to create more money,'" she said. "That's a huge reason why [many students] don't choose family medicine."

Wungwattana expects to begin her career as part of a larger practice, but ultimately wants to lead her own private practice.•