Top Honoree, Not-For-Profit
In tough economic times, not-for-profits forced to meet their obligations with diminished resources can sometimes feel as if they're trying to cover a king-sized bed with a queen-sized sheet.
"The common perception in our industry is that we should just do more with less," says Dale DePoy, CFO and senior vice president of operations for United Way of Central Indiana. "The reality is that the number of not-for-profits is growing faster than the population required to adequately fund them. This increases competition for contributions. Many not-for-profits actually compete with some of the services United Way provides, further compounding the difficulty."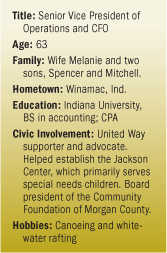 When it comes to charitable work, few have as big an impact as UWCI—and few face more challenges during economic downturns. The agency serves six central Indiana counties, providing funding to a long, long list of human services agencies. But like a doctor working in a plague zone, there's always a danger that the service provider might itself become sick. For more than two decades it's been DePoy's responsibility to keep United Way fiscally healthy so that it can help its member agencies.
During his tenure UWCI's total assets have grown from $19 million in 1986 to $120 million in 2010, and revenue from $19 million to $64 million. But at the same time available cash increased, so did the organization's complexity. The number of donor accounts exploded, taking in individual as well as corporate givers, and the number of organizations receiving UWCI funds expanded from approximately 700 in the late 1980s to more than 1,750 agencies and programs in 2010. The regulations, oversight and reporting requirements placed on not-for-profits also increased exponentially.
It's been DePoy's job to deal with all these issues. "I think the question 'How can we make this work?' summarizes my personal and professional philosophy," he said. "I immediately challenge any response that begins with, 'I can't.'"

His work to fine-tune the UWCI to handle such issues has given him a high profile in the national United Way system, where he's been a key contributor in defining new national standards for uniform reporting methods. Among a great many other accomplishments, he assisted in establishing and managing a multi-million dollar endowment to provide revenue for programs and fund overhead expenses. It allows UWCI to expend an enviably small percentage of its contributions to pay for mundane items such as administrative costs.
Finally, DePoy guided the UWCI in an activity-based costing study to get a handle on the various costs of doing business. The organization invested more than 1,300 man hours in the study, which formed the basis for numerous key financial decisions. UWCI presented its findings to other United Ways, and many changed their policies and practices based on the information. Not surprisingly, the CFO is still keen on collecting data.
"2010 is a year of self-evaluation for UWCI," DePoy said. "Volunteers and staff are looking at a multitude of programs and overhead functions to determine current value of each to the community. This entails a multi-year financial and programmatic analysis requiring much staff and volunteer time. Absorbing the additional workload with the current lean staff has been quite a challenge."
One thing UWCI employees and volunteers don't have to worry about is printing up reports or photocopying. DePoy was an early adopter when it came to not-for-profits turning over internal printing, copying, postage services and facility operations to outside contractors in the early 1990s. Recently he continued the trend in an even bigger way. UWCI and five other United Way organizations consolidated their technology departments into a separate entity called United Way Processing and Information Center. It now provides services to United Way organizations throughout the United States, reducing donor costs locally and nationally. DePoy chaired the UPIC operating council during its initial development.
Such moves are important, DePoy believes, to prove to donors and potential donors that as much of their money as possible goes to the needy—not to buying toner cartridges for the photocopier.•
Please enable JavaScript to view this content.