Indiana beers were the subject of two recently published books: "One Pint at a Time," penned by Douglas Wissing and published by Indiana Historical Society Press, and "True Brew," by Rita Kohn and published by Indiana University Press. Each might need a new appendix with the opening of Black Swan Brewpub (2067 E. Hadley Road, Plainfield, 838-7444).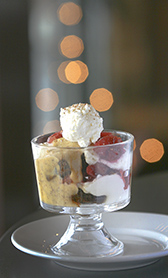 A Mere Trifle tops off a Black Swan meal with pumpkin pastry cream, gingerbread and more. (IBJ Photo/ Perry Reichanadter)
Black Swan, co-created by D.J. McCallister, a former head brewer for Lafayette Brewing Co., is a simple, comfortable new drinkery focusing on Indiana craft beers. It has 16 on tap, including offerings from Brugge Brasserie, Three Floyds Brewing Co., Crispin Cidery and Sun King Brewing Co. Black Swan's own brewery is in the works—with construction going on behind a curtain hung behind the bar.

But, we wondered, what about the stuff these brews will be washing down?

The change-with-the-seasons menu at Black Swan demonstrates an effort to go beyond the standard bar food. You won't find burgers here, for instance. Or chicken wings. Or the ubiquitous nacho mountain.

Sometimes the restaurant's ambitious offerings prove successful, such as a delicious Fall Flavor Salad ($8.95 full/$4.95 half) featuring mixed greens, apples, pears, maple walnuts, red onion, a lattice of cheddar crisp, and an apple-fennel vinaigrette. Some aren't quite where they should be, including the Brewpub Brat ($8.25), a fairly flavorless beer-braised sausage with sauerkraut, caramelized onions and whole-grain mustard on a pretzel roll.

Allow me to take a moment to state that the pretzel role is always, not just at Black Swan, better in theory than in practice. I love soft pretzels—they just don't play well with meats.

Served between the salad and the brat was a satisfyingly stuffed Roasted Portobello Sandwich ($8.95), upgraded by the inclusion of herbed Capriole goat cheese, roasted red peppers and grilled eggplant. And menu items got a boost from Black Swan Frites ($4.95 separately but included as a side with sandwiches). For these glorified French fries, you pick what they're tossed in (options include BBQ spice, truffle oil and parmesan, and more) and select a dip (we went with a dull beer cheese and a much-better peppedew aioli).

Desserts are made in-house, so we indulged in A Mere Trifle ($4.95), a modest name for a warm and welcoming mix of pumpkin pastry cream, cranberry apple compote, and gingerbread, topped with fresh whipped cream. Also comforting was a playful Cookies and Milk ($3.95) served with the "and" spelled out in chocolate on the plate between an oversized triple-chocolate cookie and a frosty glass of the white stuff.

Now, remind me again which beer goes well with milk.•

__________

First in a month-long series of fine-feathered restaurant reviews.