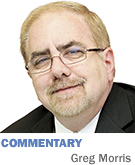 When politics comes up in conversation, passionate opinions usually follow. Most everyone has a strong opinion about a particular subject and some are more than happy to share their thoughts with you. Interest remains high in local, national and international affairs.
That is why IBJ is bringing you a brand new product to help quench your thirst for dialogue on issues that most directly affect you. Starting this month, and each month thereafter, you'll find Forefront, a 16-page supplement, in the second and fourth issues of IBJ. Forefront will feature stimulating columns and opinion from Indiana and national thought leaders on a wide variety of topics of interest.
Forefront is designed to be another public square where various voices will debate the issues of our day. Forefront columns will explain and argue a range of perspectives about Indiana and national politics and policy.
Indiana issues will be addressed by writers ranging from recently retired state Supreme Court Justice Ted Boehm to good-government advocates including Common Cause Policy Director Julia Vaughn and John Ketzenberger of the Indiana Fiscal Policy Institute. Party chairmen and office holders will weigh in, too.
Other regular local contributors include Brian Howey, leading political analyst and publisher of Howey Politics Indiana; Craig Ladwig, editor of Indiana Policy Review; Louis Mahern, former state senator and Kernan-Shepard Commission member; former Lt. Gov. John Mutz; Jim Shella, WISH-TV Channel 8 political reporter and host and producer of "Indiana Week in Review"; and John Krull, director of Franklin College's Pulliam School of Journalism and former award-winning columnist, editorial writer and reporter for The Indianapolis Star.
David Harris of The Mind Trust and Teresa Meredith of the Indiana State Teachers Association will debate education questions, and Steve Campbell will bring the perspective of a former Indianapolis deputy mayor to politics and policy.
Readers also will be treated to many New York Times columnists, including Tom Friedman, who has won two Pulitzer prizes for international reporting; Maureen Dowd, another Pulitzer winner for distinguished commentary; Paul Krugman; Gail Collins; and Nicholas Kristof.
Many Forefront writers will appear monthly, while others will drop in to address particular topics. Columns from the candidates themselves will appear as political races heat up. I hope Gov. Mitch Daniels will drop in once in a while to share some of his perspectives.
Some IBJ readers may remember our old version of Forefront, which was last published in 2006. The content was primarily dominated by nationally syndicated columnists with a small offering of Indiana and local writers. The revamped Forefront has a significantly heavier mix of Indiana writers and the addition of the nation's best syndicated columnists. It has also been redesigned to make it visually more compelling.
Also new this go-around, Forefront will be available online to our combo print + ibj.com premium paid subscribers and to ibj.com premium-only paid subscribers.
So, what can we look forward to? For starters, we have a mayor's race in Indianapolis in 2011 with a lot of hot issues on the table. Indiana has a newly elected Republican majority in both houses of the Legislature. How will that affect Daniels' agenda in the remaining days of his term? Will meaningful education reform finally break through? Will there be fortitude to address redistricting in Indiana in a fair manner? Liberals and conservatives will be clashing in Washington on more even turf after midterm elections. There are too many opportunities for service in Washington to cover here. And, the names of Mitch Daniels and Mike Pence keep coming up as potential presidential candidates for the 2012 election.
So buckle up and get ready for the ride that never ends. IBJ will give you a front row seat for all the action twice a month in Forefront. You'll find even more in the weekly print edition of IBJ, weekdays in the IBJ Daily newsletter, and up-to-the-minute reports online at ibj.com, on your iPad or similar tablet device, and on your mobile phone.
Please check out Forefront starting next week and let me know what you think. Thanks for reading IBJ. •
__________
Morris is publisher of IBJ. His column appears every other week. To comment on this column, send e-mail to gmorris@ibj.com.mailto:gmorris@ibj.com
 
Please enable JavaScript to view this content.