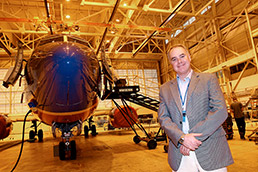 Above, airport executive Eric Anderson in one of the Indianapolis Maintenance Center's bays. (IBJ Photo/ Perry Reichanadter)
Seven years ago, the unthinkable happened.

United Airlines, which only a decade earlier awarded Indianapolis the economic development prize of the decade in the form of a 1.7-million-square-foot aircraft repair base, abandoned the facility that once employed 3,000 people.

United technicians like Joe Bennici, who helped design the state-of-the-art Indianapolis base, were numb.

"When this place was closing, it was hard to believe," he recalled.

Today, the complex employs more than 1,400. Though that number is less than half the facility's peak, the mall-sized complex is humming and is essentially fully occupied. There remains about 87,000 square feet of space scattered about that is unoccupied, but, "other than that, everything else is leased up," said Eric Anderson, property director for the Indianapolis Airport Authority, which owns the building and leases it to tenants.

"We've hit our high point right now," Anderson said. "It's a fantastic place to work and we're awfully busy."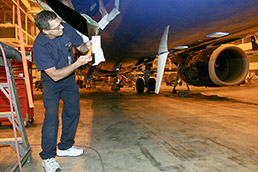 Mechanic David Walter works on a cargo door threshold plate for AAR. AAR has adapted the facility to do things United didn't. (IBJ Photo/ Perry Reichanadter)
This beckons another once-unthinkable scenario: Might a complex United left for dead in 2003 actually now be ready for expansion?

Officially, the authority said it has no expansion plans on the horizon for the Indianapolis Maintenance Center. Anderson said a land-use study the authority plans to release this month will guide future development priorities on and around the airport.

But based on activity at the IMC, an expansion could be on the horizon. Its biggest tenant, Chicago-based AAR Corp., is at times using all 10 of the hangars it's leasing at the base. It's had a fairly consistent run of work to repair Southwest Airlines' Boeing 737s, and recently landed work from Delta Air Lines. AAR employs about 800 at IMC and anticipates that business booked for 2011 will necessitate bringing another 200 workers to the facility.

"I think the next [issue] that will constrain us is space," said Danny Martinez, manager of AAR's Indianapolis operation.

Martinez jokes that, during busy times, he'd love to be able to toss out his friends at Republic Airlines, the Indianapolis-based airline that uses the base's two other hangars to repair smaller, regional jets.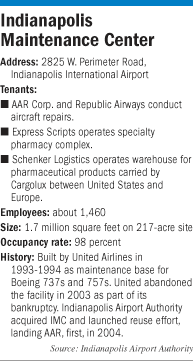 There's space available to expand the massive base. United's long-range plans contemplated an entirely new wing on the southwest side of the L-shaped facility that, when completed, would give the base a U-shaped configuration and approximately six more hangars.

For years after United opened the base in 1994, construction trailers squatted over the weed-covered tract in anticipation. Even at its zenith, United's number of employees at the base was nowhere near the 6,300 it anticipated having by 2004, when it was to have finished the wing. As United's financial picture worsened, it outsourced repairs at its expensive Indianapolis facility to independent, non-union aircraft repair companies.

"I don't think [expansion] is necessarily that far off," said Anderson, pointing to the potential of landing new tenants and perhaps accommodating existing tenants at the airport as they grow.

For example, Switzerland-based Comlux Aviation in recent years opened a shop on the other end of the airport that makes luxury interiors for business jets and large corporate aircraft. Might such a firm be a good fit at IMC someday? You bet, Anderson said, but it's "one hangar at a time."

Long climb back

That's been the approach since United pulled out in 2003 amid bankruptcy reorganization.

The airport authority was left holding the bag—a big one. It contemplated putting a "for-sale" sign out front—or trying to take on reuse itself.

"The board really had the guts to step forward and say, 'Let's give this a shot to find other tenants and bring back jobs,'" recalled Anderson, a 21-year airport authority veteran and remodeling buff who was tapped to focus on IMC.

"For some sick reason, I like to fix things," he said. "This was something extremely large" to fix.

The authority didn't have a lot to work with other than empty hangars and aircraft tooling it bought for United as part of $300 million in state and local incentives Indiana granted to lure the $800 million facility.

Rumors soon started flying that the authority and city officials had lassoed interest from promising new tenants. Names like Boeing, US Airways and Southwest Airlines began circulating.

What emerged was a relative unknown to those outside the aviation industry— AAR—whose aircraft maintenance division wasn't even its largest business segment. AAR was primarily an aircraft parts business.

In fact, the Indianapolis facility was a risky move for AAR. It started slowly, agreeing to lease one hangar, with options to lease others. Some of the first planes AAR repaired here were those from its own fleet. It was betting it would get business from airlines and the bet paid off.

A hike down the central corridor that connects the hangars—so long that employees have marked out the quarter-mile point to help them measure distance during lunch-hour jogs—found AAR's stable mostly full.

There are several Boeing 737s belonging to Southwest, and a Boeing 757 painted in Delta's colors. Add to that a couple of transport planes for the U.S. Marines—and a McDonnell Douglas MD-90, sans its engines, wearing the name of China Eastern Airlines (you can fly a wee MD-90 here from China but it requires a few stops along the way).

The MD-90 is now owned by Delta, which tapped AAR to prepare the plane to add to Delta's fleet. AAR has been artful at finding work—even if it's a one-off repair project.

Needing more space, AAR is working with the authority to demolish a platform United built in the largest hangar bay—the 108,000-square-foot 6B—for wide-body Boeing 767s. There's not much demand for wide-body work here, so the reconfigured hangar should allow AAR to squeeze in several 737s or smaller planes.

AAR also has adapted the base to do things United did not. For example, it converted a washing bay for aircraft painting.

"We're very confident and optimistic for what at least the next six months has coming," Martinez said.

Next door are two hangars used by Republic Airways to maintain Embraer regional jets. Most of the work in those hangars is performed overnight by about 130 employees.

Some non-aviation tenants also occupy the complex. Health insurance giant WellPoint opened a drug packaging and shipping facility at IMC in 2007. WellPoint later sold the operation to St. Louis-based Express Scripts. There were doubts initially whether Express Scripts would continue the IMC operation, although airport officials say the 110,000-square-foot operation is alive and well.

Just down the hall is Schenker Logistics. It serves a twice-weekly shipment of pharmaceuticals between Europe and Indianapolis aboard a Cargolux Boeing 747.

Occupancy up, costs down

It's taken years, but IMC appears to have turned the corner, not only in occupancy but in trying to make the facility more cost-effective.

Operating expenses have been cut from $15 million a year, when United was using it, to $8.3 million under the authority's control. For 2010, Anderson's team is projecting revenue at $8.8 million.

United designed IMC to speed up the airplane repair process, thus reducing the amount of non-income-producing downtime for its aircraft. That makes IMC attractive as a facility, but other flourishes included by United aren't so beneficial.

"If you were going to build a facility for profit, you would never have a hallway this wide," said Anderson, extending his arms while standing inside the cavernous central corridor.

Some features came in handy. The airport decided to tap the unused capacity of IMC's energy plant to heat and cool the new midfield airport terminal, effectively saving $1.6 million a year.

With AAR on a tear, "it's been a solid year," Anderson said.

It's especially gratifying for ex-United employee Bennici, now one of four other authority employees on Anderson's team.

"We all knew that, at some point, somebody was going to occupy it again."•