The first electric cars sold by Elkhart-based Think North America will likely produce enough revenue to pay off a revolving line of credit from Ener1, a battery maker with close ties to the company.
Ener1, based in New York, has a 44-percent equity stake in Think. And Ener1's Indianapolis-based subsidiary, EnerDel, is the main battery supplier for Think's two-seat City.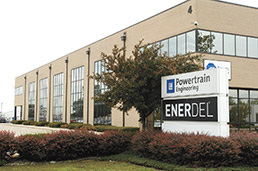 EnerDel's parent company, Ener1, has a large stake in electric car maker Think. (IBJ File Photo)
Think recently said it will produce 300 cars by year's end and 2,000 to 3,000 vehicles next year in Elkhart. The Indiana plant installs the batteries, motor and gearbox, seats and headlights.
Think Holdings, based in Norway, got its $5 million line of credit from Ener1 Nov. 18, just before starting production in Elkhart. Under the terms of the agreement that Ener1 filed with the Securities and Exchange Commission, Think can draw on the line until Jan. 31 at 12-percent interest and must repay before Feb. 28.
The initial draw was $2 million.
Also under terms of the agreement, Think will pay down the debt every time it sells 25 units. It will either pay the full amount it receives for the units or $23,500 per unit, whichever is less.
At that rate, it will take 85 cars to pay off the $2 million, excluding interest.
Ener1 recently nominated one of Think's backers, William "Wilber" James of Rockport Capital, as a member of its board. "I believe Think will have sold more electric vehicles in 2010 than any other company," James said.
James' $850 million clean-technology fund, based in Boston, invested in Think four years ago, before Ener1 came into the picture. Rockport still has a stake in Think, but James is shifting his focus to Ener1. The company markets its lithium-ion batteries for electric-grid storage and mass transit, as well as cars.
James recently swapped most of his shares in Think for $20 million worth of stock in Ener1. Rockport previously provided a $2.5 million bridge loan to Think.
In 2009, Rockport and Ener1 each invested $12.5 million in Think.•
Please enable JavaScript to view this content.