Question: Gov. Mitch Daniels has called for a "truce" on social issues in order to focus on fiscal issues. Do you anticipate social issues gaining traction in the upcoming General Assembly?
Answer: The Indiana General Assembly's contentious 2009 budget writing session was only a preview of the tough fiscal decisions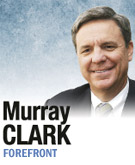 to come as we head into the 2011 budget session. In many respects, 2009 was like the 30-second TV trailer for a much-anticipated movie: We have a broad idea of the major plot lines, we understand the conflict that must be resolved, and we're familiar with the principal cast.
Experiencing the preview, though, gives us only some perspective. As the legislature progressed through the session two years ago, we were aware a national recession had set in. We knew the belt had to be tightened and revenues would drop. Furthermore, we knew we were positioned better than most states to absorb any hits.
What was unclear then—and may remain unclear for a while longer—is how long and deep the recession might be. There are modestly promising signs of recovery, to be sure, but the potential for plot twists always exists.
As long as there is an air of uncertainty around the economic picture, we must remain focused on protecting the progress Indiana has made while weathering what's left of the economic storm.
Lately, such discussions have included a debate about a "truce" or "moratorium" on so-called social issues. Implicit for some in such terms is the idea that social issues like marriage or abortion or immigration are deemed less important than economic issues. Some contend that inaction on such issues now is equivalent to negative action over the long term.
As a former legislator, I must admit I bristle a bit at the thought that 150 well-meaning, hard-working Hoosiers aren't capable of discussing non-economic matters while at the same time dealing with economic challenges. As chairman of our party, I often remind our supporters the GOP is big enough for debate and disagreement. As Ronald Reagan admonished us a quarter-century ago, "If you're with me 80 percent of the time, you're my friend, not my enemy."
For many Hoosiers—including many legislators—social issues are critically important. But our elected officials are not immune to the effects of the recession. Recognizing that economic issues are pressing at this moment is merely an act of prioritization, not exclusion.
When the first effects of the recession were being felt in 2009, legislators from both parties made fiscal issues the only priority. Of course, Democrat House leadership also ensured that many social issues wouldn't get a proper hearing through the use of procedural maneuvering. But Republicans didn't expend much energy in fighting these legislative sleights of hand because they realized how much greater the fiscal challenges at hand would be.
With Republicans holding the House majority, the opportunity to deal with those non-economic issues certainly exists. However, Gov. Daniels' leadership in offering this idea for a moratorium is sensible and constructive because the fiscal issues that plagued us two years ago still loom large. Incoming House Speaker Brian Bosma and his colleagues understand this and are prepared to once again maintain a laser focus on addressing the hardship so many Hoosiers continue to face.
Movies often conclude with a happy ending despite sacrifices that are often made along the way. Hoosiers have sacrificed a lot over the past few years. Our happy ending will come if our General Assembly is able to pass a balanced budget without using gimmicks or instituting any new tax increases.
This will not be easy and will require extraordinary focus; it will require the best efforts our leaders can summon. Resolving the fiscal plot may mean leaving other issues for another day. That does not mean they won't get answered eventually—to the contrary, we may simply be asked to wait for the sequel.•
____________
Prior to becoming Indiana Republican chairman, Clark served in the Indiana Senate for 11 years and chaired Mitch Daniels' successful bid for governor in 2004. In the Senate, Clark received the Small Business Champion Award from the Indiana Chamber of Commerce. Clark also is a partner with law firm Baker & Daniels.•
Please enable JavaScript to view this content.