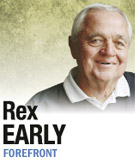 George Jones, my favorite country singer, made famous a song titled "The Race is On."
The race is on in 2011 and I don't mean just the Indianapolis mayor's race.
Nope, the race I'm talking about is to pick the Big Kahunas—you know, the next governor and U.S. senator.
The old unwritten rule would have prohibited campaigning for a 2012 office in 2011. You can forget that rule; the reason is money.
It's conceivable, with a contested primary election for governor, that it will take $20 million to fund a winning campaign. Boys and girls, that ain't chump change. And both parties could have a contested primary.
On the Democratic side, the $64,000 question is, will Evan Bayh run for governor? One great source says Brad Ellsworth was promised the governor's nomination if he gave up his safe congressional seat to run for the Senate. Another great source says it's Evan Bayh for governor and Brad Ellsworth lieutenant governor. Yet another source expects John Gregg to be a dark horse candidate.
If any of those scenarios is true, how about Mayor Jonathan Weinzapfel of Evansville, who has been beating the bushes for two years and was considered to have a lock on the nomination? Does he get thrown under the bus or will he opt to go for the Senate seat?
Then there's cheerful Baron Hill, who lost his seat in Congress and will not like his new congressional district after redistricting. I think he is interested, deals or no deals.
And there are the long shots like Bart Peterson or a real long shot—and my choice—Ed Delaney, who was a shining star as a freshman legislator. Just think if Ed were governor; my friend Ann would be the first lady. (Wow, we might go to war with Illinois or Kentucky.)
Now on the Republican side for governor, when Mike Pence, the 800-pound gorilla, says he's "looking at it," he is as serious as a heart attack.
Why would he give up his congressional seat and leadership in the Republican-controlled House? Well, only once has a sitting congressman been elected president—lots of governors but few congressmen. (Right, Evan?)
How about Republican State Chairman Murray Clark? He has rejuvenated the party and the grass-roots leaders love him. He just orchestrated a great state campaign. He's been a loyal soldier for Governor Mitch and he has proved he can raise money.
Lt. Gov. Becky Skillman is gearing up to run. Will Indiana elect a woman governor like many other states have done? Can she raise the money? The Republican grass roots like her. Will Governor Mitch endorse her?
Brian Bosma has waited his turn. He already has a built a state grass-roots organization with his fellow legislators. Bosma can raise the money, and he has an opportunity to come out of this legislative session as a real leader and someone the conservatives would really like.
Then there is Sen. Lugar's Senate seat. Lugar says he's running for his sixth term. Is he conservative enough for the tea party folks? Has he been there too long? Lugar was the strongest supporter of the Reagan agenda during his two terms, with an 88-percent rating on the conservative score card. He gets a 9 percent on the American Civil Liberty Union's score card (that's good), and he gets 100 percent from the National Right to Life.
Lugar will likely have primary competition, and he is gearing up for that possibility. Names that have been mentioned are State Sen. Mike Delph and Richard Mourdock—both conservative favorites—and all those who might run for governor.
The Democrats will engage with a legitimate candidate. In 2006, Lugar was unopposed; that won't happen in 2012.
Attention, political contributors: Get out your wallets, because you are going to get triple-dipped in 2011. The mayor, the governor, the senator. And you thought 2010 was bad.•
____________
Early has served in the Indiana House and as a Republican state chairman, and in 1996 ran for governor. He also has served on the Republican National Committee and as a trustee for the Indianapolis Foundation and Vincennes University. A Marine Corps veteran and graduate of Indiana University, Early owns Carlisle Insurance Agency and is the author of "It's a Mighty Thin Pancake That Don't Have Two Sides." Early and his wife, Barbara Ann, have three children.•
 
Please enable JavaScript to view this content.