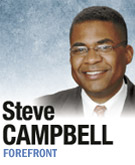 When Republicans take a stranglehold of the Statehouse in 2011, political prognosticators have assumed that passage of local government reform, particularly with respect to township government, is a forgone conclusion.
Hold your horses. I'm not sure it matters which party is in power. Reforming local government likely will continue to be an uphill battle.
In 2004, I was part of the team that worked on Indianapolis Works, former Mayor Peterson's plan to eliminate townships and streamline local government. It was the first—and most aggressive—plan to overhaul and modernize government in Indiana since Richard Lugar's Unigov in 1970.
Indy Works was backed by all three post-Unigov mayors, including Lugar. We enjoyed the overwhelming support of business and community leaders throughout the city. Every poll showed anywhere from 65 percent to 75 percent positive support. We had logic, momentum and tax angst on our side. Or so we thought.
The Legislature did approve our plan to merge police departments and city and county budgets, but the elephant in the room was township government, and our attempts to eliminate them fell flat at the Statehouse three years in a row. Subsequent bills have nipped around the edges, but township government in 2010 Indiana remains mostly how it looked in the 1800s.
In this upcoming session, I hope a few of the lessons we learned will help proponents picking up the mantle today:
• Throw out party labels. Conventional politics have programmed us to believe that Democrats want big government and Republicans are for smaller government. Yet, it was Peterson, a Democrat, who resurrected Lugar's ideas. Conventional wisdom told us Lugar's support would help secure Republican votes. Yet in 2005 we failed to get a single Republican vote in the Legislature or city council and picked up every Democratic vote. In fairness, once Peterson left office, many Democrats have blocked some of the same reforms they previously supported. The bottom line is that this debate transcends party; there are supporters and detractors on all sides.
• Know that no legislator has lost his or her election for voting against reform. Nothing motivates lawmakers more than the thought of losing the next election. After my boss lost his race in the now-legendary property tax meltdown of 2007, the Legislature rushed to pass tax caps, county-by-county referenda on eliminating township assessors, and other attempted fixes. Until there are consequences of blocking reform—losing donors, endorsements or an election—there will be little pressure to act.
• Be aware that townships are the farm teams of state politics. Township workers and supporters are the same campaign staffers, poll workers and donors who help elect nearly every member of the Legislature. Many legislators are former township officials themselves. It takes guts to stand up to your political supporters, and for this to pass, they will have to do just that.
• Prepare for a battle on multiple fronts. With Indy Works, we were prepared to fight one battle against the township lobby, but we did not anticipate the need to wage nine separate battles in nine separate townships, each with its own organized opposition. Statewide, this is a one against 1,006, and at times, it is an unfair fight.
• Understand that reform is not a sexy issue, so the public will lose interest quickly. Seventy-five percent public support for Indy Works did not translate into outraged citizens rallying to the cause. Voters will jump out of their seats over stadiums or property taxes, but the topic of reorganizing the duties of scores of officials bores the average person to tears.
• Nonetheless, proponents have to connect reform to the real pocketbook issues that drive people. The average person has little comprehension of who their county and township officials are and what they do. So while many get angry about closing libraries, crumbling streets and spiraling crime, they shrug their shoulders at township government. If citizens are given a stark choice between township government as is and keeping our libraries open, hiring more police officers or building more sidewalks, the debate would be over.•
__________
Campbell is president of Campbell Strategies LLC, a communications and strategy development firm. As a deputy under former Indianapolis Mayor Bart Peterson, Campbell oversaw city operations in community development, constituent services, environmental affairs, neighborhood services and public access. He graduated from Wabash College and the Indiana University School of Law, and served as an aide to Govs. Evan Bayh and Frank O'Bannon.•
Please enable JavaScript to view this content.