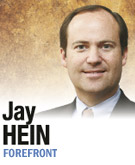 Absenteeism was an overriding theme of the media covering Dan Coats' campaign to regain his seat representing Indiana in the U.S. Senate. Much attention was paid to his vacation home in North Carolina, town house in Washington, and smaller home in Indianapolis. I wonder how this message would have played if Evan Bayh had not dropped out of the race since he possesses exactly the same housing arrangements.
But more troubling was the absence of media reports detailing candidate Coats' contributions to the Indiana policy landscape during those "nonresident" years. Adhering to a self-imposed term limit on his Senate service in the 1990s, Coats broke national political custom by transferring his surplus campaign funds to a charity rather than parceling it out as future political capital.
And since his campaign-to-charity funds were originated by Hoosier constituents, Dan and his wife, Marsha, wanted the foundation headquartered in Indianapolis aimed at improving Indiana's communities.
After 20 prosperous years as a heartland think tank, the Hudson Institute boxed up its papers in 2004 to set up shop in Washington, D.C. Tasked with administering the foundation as part of my portfolio at Hudson, I contacted then-Ambassador Coats in Berlin, Germany, to discuss our options. We decided it was essential to have a think tank born in Indiana soil to spread Hoosier common sense and innovation toward our state's greatest needs and to enrich important national conversations. This gave rise to the Sagamore Institute, which was incorporated as an Indiana not-for-profit in May 2004.
Dan Coats became Sagamore's founding co-chairman alongside Indianapolis business stalwart Jerry Semler. Together, they built a board and led me and Deborah Daniels through successive terms as Sagamore presidents over the past seven years.
The results have been wide and deep. We've developed more than $8 million in research funds and administered dozens of projects. Notable highlights include assisting the design of the city's highest-performing charter school, advancing the state's trade relationship with China, and attacking rural Indiana's methamphetamine epidemic.
In a campaign where Coats' primary and general election opponents questioned his Hoosier bona fides, why didn't the former senator regale us with these Indiana policy success stories? Because Coats knew this election was not about him. Rather, it was about the Hoosiers themselves.
Coats opted to listen to voters' concerns rather than defend his character. In response to personal attacks, his punches were all aimed at policies that endangered our freedom through the heavy hand of government.
In the year of the tea party, experts considered the Coats campaign doomed from the start since his was not a fresh voice. What they failed to realize is that his unlikely campaign was not the product of Washington insiders but rather a call to duty not unlike the tea partiers themselves. Whereas most tea party members attended rallies, Dan Coats sensed his years of political seasoning required him to give more.
Better news for Indiana voters is that Coats will be prepared to govern both artfully and with sophistication once returned to his familiar Senate floor surroundings. Opposite the on-the-job training needed for some of his fellow freshman class members of the 112th Congress, Coats has a long record of managing relationships with leaders from both parties to get things done. This gives hope that needed reforms to the massive health package adopted last year can be accomplished.
Beyond, there are many grave matters not discussed in the campaign that will nevertheless take center stage in the actual work of governing, such as keeping our nation safe from foreign attack.
In another underreported story of Coats' post-government service era, he co-chaired a Bipartisan Policy Center task force on national security with former Sen. Chuck Robb. The Coats-Robb report identified a nuclear-weapons-capable Iran as a "strategically untenable" situation, and their recommendations provided a compelling source of information for Congress and the incoming Obama administration.
So it is this combination of Hoosier sensibility, fiscal integrity and policy rigor that Coats takes to Washington in his return to the Senate. The campaign is over; let the governing begin.•
__________
Hein is president of Sagamore Institute, an Indianapolis-based think tank. He was a senior White House official from 2006 to 2008. Hein is vice president of the Foundation for American Renewal, and was named to the Indiana Commission on Community Service and Volunteerism. He was a welfare reform policy adviser to former Wisconsin Gov. Tommy Thompson and a Hudson Institute scholar.•
Please enable JavaScript to view this content.