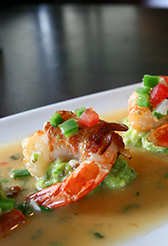 Served in a tequila lime sauce, the Mexican Drunken Shrimp is worth trying.(IBJ Photo/ Perry Reichanadter)
My husband and I are beer people. For a variety of reasons, wine just isn't our thing. So we weren't exactly buzzing with excitement when we headed to review Cooper's Hawk Winery & Restaurant (3815 E. 96th St., 574-9463).
But we were when we left.
Cooper's Hawk, a small Illinois-based chain, opened its first Indiana location last month in the sprawling former home of Bahama Breeze. To get to the dining room or bar, patrons must navigate a gift shop (think an upscale Cracker Barrel) and past a display case full of house-made chocolates that went a long way toward improving my enthusiasm.
We went for a late lunch on a weekday and pretty much had our choice of tables—after we refused the seater's attempt to put us right next to the only other diners in the place. Really? Dozens of empty tables and you think we want to be able to reach out and touch a stranger? I understand trying to minimize server mileage, but c'mon, people!
While we perused the expansive menu, our server brought tasting samples of the special Winemaker's Barrel Reserve, which changes periodically. As novices, we appreciated the no-risk policy that allows patrons to taste any vintage before ordering. The menu also lists suggestions for wine pairings with each item.
We opted against a liquid lunch, but ordered enough food that we ended up with dinner, too. First up: the Mexican Drunken Shrimp appetizer ($11.99)— bacon-wrapped grilled shrimp served atop fresh guacamole and a tequila lime butter sauce. The flavor combination was heavenly—bacon really does make everything better—but we would have preferred the meat to be warmer. Maybe if the guacamole were served on the side? The sauce was sop-it-up delicious, so we made good use of the complimentary pretzel bread.
For our meals, we tried the Gnocchi Carbonara ($15.99) and Chicken Giardiniera ($16.99). The gnocchi was delightful: obviously handmade dumplings filled with ricotta cheese, smothered in a parmesan garlic cream sauce, with chunks of crispy pancetta, roasted chicken and peas adding taste and texture. I'm thankful that hubby was generous enough to share.
I returned the favor with my equally yum-inspiring chicken. The meat was pounded thin, crusted with panko breading and parmesan cheese, and topped with the eatery's own spicy giardiniera—a mix of pickled carrots, capers, onions and bell peppers. It added just the right bite to the rich breading and creamy whipped potatoes that anchored the dish. And it held up well to reheating, always a bonus.
Though full, we couldn't pass up dessert. I surprised myself by eschewing the chocolate—available individually or as an "assortment" with or without wine—in favor of the server-recommended Banoffee Pie ($6.99). Oh, dear. That's something I didn't need to know existed. The miniature pie has a graham cracker crust and what I can only describe as a toffee cream filling, accented by sliced bananas and fresh whipped cream. Our server told us it would be sweet, but she didn't say it would be addictive.•
__________
Second in a month-long series of fine-feathered restaurant reviews.
Please enable JavaScript to view this content.