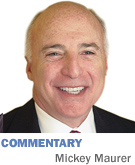 Like most veterans of the entrepreneurial wars, I have made mistakes. That propensity is magnified by the higher-risk profile I have chosen—startups and turnarounds, both treacherous undertakings.
To create a disciplined investment philosophy, I evolved from my experience "The Ten Essential Principles of Entrepreneurship You Didn't Learn in School"—at least I didn't learn them in school. Over the course of 10 columns, I have featured each of these essential principles. This is the final installment.
Know when to fold 'em
(Don't stay too long at the dance.)
In business school, students are supposed to acquire the tools necessary to analyze a business opportunity and know from that analysis whether to invest. But I was never educated how to decide when to divest—to recognize the proper time to sell a business.
Age and health issues aside, I suggest the "trigger" moment is when there is a looming fundamental adverse change in the industry. One should not sell needlessly. The government imposes a harsh penalty for those transactions. It is called a tax. I would not fault anyone, however, for an otherwise premature exit that creates a first opportunity for wealth and diversification.
My partners and I were pioneers in the cable television industry. In the early days, cities granted a franchise to only one operator, creating a quasi-monopoly for the boob-tube entertainment dollar. No wonder the industry flourished unfettered for 20 years.
In the late 1980s, I learned that a satellite receiver the size of a serving platter was successfully tested in Canada. My first thought was, "This small, affordable dish could ruin our industry." At the same time, state governments and the Federal Communications Commission were deregulating cable television and allowing competition, particularly from telephone companies. It was time to sell.
I had a similar experience in the radio broadcasting business. I liked that industry in part because there are a finite number of licenses issued by the federal government. If you sat in on this poker game and you played a losing hand, you could exit gracefully because of the license limit.
But by 2004, the game was changing. "Time spent listening"—an important measure used by advertisers to judge radio popularity—was waning and the industry was losing its youthful listeners, perhaps to iPods and other MP3 players. Moreover, satellite radio loomed as a growing threat to terrestrial licensees. It was time to sell—again.
In both of these exits, I was fortunate to find buyers who didn't see the industries the way I did. Perhaps I was lucky, but in both cases subsequent selling prices suffered precipitous declines.
I made a big mistake almost 20 years ago when I decided I had created sufficient wealth to cash in on the American Dream. In a period of six months, I retired from my law practice and sold all my business interests. The proceeds from the sale of these businesses were converted into tax-free bonds.
What a fiasco! After a few months of retirement, I grew dissatisfied. The calls and the mail dried up. The office was a lonely place. I missed the psychological satisfaction of seeing opportunities, making deals, creating value—of being in the arena. I realized that my original vision of the American Dream was a nightmare.
Lucky for me, my mistake was correctable. I cashed the tax-free bonds and purchased businesses. Today, most of my income consists of cash flow wrung out of small businesses and the psychic income mentioned above.
Know when to fold 'em—did you learn that in school?
__________
There is more to entrepreneurship than the money that is earned. Entrepreneurship is a grand game and money is simply a means of keeping score. The essence of entrepreneurship is the joy of the game. I hope my columns of the "Ten Essential Principles You Didn't Learn in School" will enable you to enhance that joy.•
__________
Maurer is a shareholder in IBJ Corp., which owns Indianapolis Business Journal. His column appears every other week. To comment on this column, send e-mail to mmaurer@ibj.com.
Please enable JavaScript to view this content.