Despite an improved team on the floor, the Indiana Pacers continue to struggle at the gate.
The Pacers averaged 14,202 fans per home game last season. That was 27th in the 30-team league.
With the addition of guard Darren Collison and the emergence of Roy Hibbert, the Pacers have shown glimpses of promise on the court, and are solidly in the hunt for an Eastern Conference playoff spot.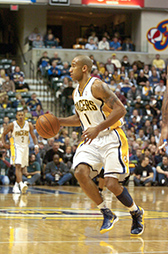 The Pacers' attendance ranks 28th in the 30-team NBA so far this season. (IBJ File Photo)
Still, through 11 home games (more than one-fourth of the season), the Pacers are averaging 13,712 per home game. The team has slipped to 28th in the league in attendance. The New Orleans Hornets are 29th, averaging 13,654 per home game, and the Sacramento Kings are 30th, averaging 13,457.
Local sports marketers said the stalled economy certainly hasn't helped the Pacers, and local basketball fans haven't yet become attached to the emerging Pacers players the way they embraced Reggie Miller and Rik Smits a decade ago.
The Pacers have seen a modest gain in attendance since 2007-2008, when they averaged a league-worst 12,221 per home game. But the current average lags 2006-2007, the last season in which the team averaged more than 15,000 fans per home game.
Please enable JavaScript to view this content.