OneAmerica Financial Partners Inc. built up a nice business managing the retirement plans of small employers. But it doesn't want to be a niche player anymore.
That's why the Indianapolis-based life insurer last month launched a product aimed at landing far larger retirement plans and significantly growing its assets under management.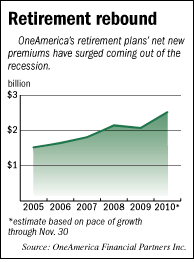 "We've gone up a weight class," said Bill Yoerger, vice president of retirement services sales at OneAmerica's subsidiary, American United Life Insurance Co. Whereas OneAmerica was previously targeting retirement plans from $1 million to $25 million in assets, its new product, called Premier Trust, aims at plans with assets of $5 million up to $100 million.
The trouble is, at that size, OneAmerica is far more likely to bump into the behemoths of its industry: Fidelity, TIAA-CREF, T. Rowe Price, The Hartford, New York Life, Morgan Stanley.
And OneAmerica has this additional challenge: In the wake of the stock market plunge, which hammered the value of investments and products at life insurers, nearly every company in the industry is looking to retirement services to grow its business.
"It's going to be a bit of a food-fight in that space," said Ken Johnson, a credit analyst who covers OneAmerica at New Jersey-based A.M. Best Co., the pre-eminent rating agency for insurers.
But Yoerger, looking out over Indianapolis from his office high up in the OneAmerica Tower, sees no reason OneAmerica can't continue the rapid growth it's already been enjoying.
OneAmerica added 36 accounts this year and plans to add another 50 to 55 next year.
The company has grown its sales so far this year 22 percent, which represents $2.5 billion in new premiums and deposits.
OneAmerica ranked No. 44 for retirement assets under management last year, according to Pensions & Investments, a trade publication. Boston-based Fidelity, by contrast, has more than 50 times as many assets in its retirement plans.
Yoerger
OneAmerica now has $10.6 billion in retirement assets. And with its acquisition earlier this year of Indianapolis-based McCready & Keene Inc., OneAmerica added another $3.4 billion in retirement assets.
Those numbers include only defined-contribution plans—401(k)s for businesses, 403(b)s for not-for-profits, 457s for government employers. McCready also had a business in pensions—known as defined-benefit plans—with assets totaling another $12.8 billion.
And because it already served larger accounts, McCready had developed a plan platform that more easily combines defined-benefit and defined-contributions plans. McCready also brought over sophisticated Web tools that are easy to use for employees and give daily updates on the value of a worker's assets in the retirement plans.
McCready's system also allows OneAmerica to offer retirement investments in 20,000 funds, compared with just 300 under its own systems.
"We're well-positioned for it," Yoerger said about OneAmerica's competing with larger plans. "We don't run away from any challenge."
The McCready & Keene tools are nice, noted A.M. Best's Johnson, but they merely put OneAmerica on par with its bigger rivals. The company still must compete and execute well in order to land the extra business it hopes to.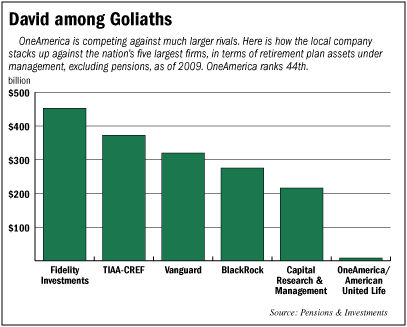 But to remain competitive, size is enormously important, noted Rosemarie Mirabella, a life insurance industry analyst at A.M. Best.
"You need the scale" she said, "because in order to compete effectively, obviously, you have to have competitive pricing."
OneAmerica typically has competed via service. It won over Eddie Bauer's $60 million account last year—then won awards for how it customized communications to the retailer's employees.
More evidence of its service prowess shows up in OneAmerica's low turnover of clients. Its average tenure on accounts greater than $10 million is 18 years. And, Yoerger made sure to note a 2009 survey of retirement plan sponsors by Boston Research Group, which rated OneAmerica No.1 in the industry for both loyalty and value for cost.
"We're just firing on all the right cylinders," Yoerger said.
Earlier this month, OneAmerica announced that it won a $30 million retirement account from Williams Medical Center, which has 1,500 employees in Franklin, Tenn.
"AUL has demonstrated to us its solid track record, impressive capabilities and unwavering commitment to providing plan participants with superior service," said Tim Burton, Williams' associate administrator for operations, in a statement.
Retirement plans account for nearly two-thirds of OneAmerica's new sales, with the rest coming from life insurance and employee benefits.
As of Sept. 30, the company had total assets of $23.7 billion. During the first nine months of the year, revenue rose 11 percent to $986 million. Profit in the same period spiked 25 percent, to $85.5 million.•
Please enable JavaScript to view this content.