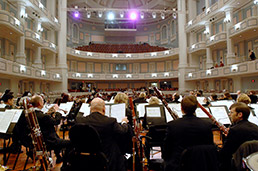 The Carmel Symphony Orchestra rehearses in the Palladium, where it will begin performing in February. (IBJ Photo/ Perry Reichanadter)
Carmel is building a dream home for the performing arts.
Now those groups planning to move into it just have to figure out how to pay their share of the mortgage.
"It's going to put a lot of pressure on us, but we're interested in the challenge and the opportunity," Indiana Wind Symphony Treasurer Tom Howenstine said.
The 70-piece band is one of seven groups named a resident company at the $150 million, three-venue Center for the Performing Arts. The Palladium, a 1,600-seat concert hall, opens in January. The wind symphony, which is a concert band, and the Carmel Symphony Orchestra will hold their first concerts in February.
Five more dance and theater groups are preparing to take up residence in the other venues, a 200-seat black-box theater that will open in March, and a 500-seat proscenium theater that opens in August.
Although heavily subsidized by the city of Carmel, the new digs aren't cheap. Daily rates are approximately $3,500 for the Palladium, $2,000 for the 500-seat Tarkington theater, and $1,000 for the 200-seat Studio Theater, said Steven Libman, executive director of the performing arts center. Each group will have a separate contract that may vary from those rates, he added.
Libman said the rates are "in the ballpark" of what other state-of-the-art facilities charge. Nevertheless, managing the expense will test small organizations that until now have used school auditoriums and theaters, said Jim Morris, a Carmel-based not-for-profit management consultant who previously worked with performing arts groups in Orlando.
"Affordability becomes a big question mark," Morris said. "When I hear $1,000, that's extremely costly."
Even the center's management, backed by an $8 million operating budget that includes $2 million from the city of Carmel, will spend the first couple of years trying to iron out its marketing strategy, Morris noted. Local not-for-profits face a bigger learning curve.
"The groups tend to overestimate their ability to draw audience in the new space when it's still unknown," he said.
Resident status
The resident companies earned that status by agreeing to schedule at least four performances in any of the three venues. In exchange, they get access to the center's online ticketing system and a discount on rents. (Libman said the higher rate that non-resident groups will pay is yet to be determined.)
Of course, they'll also ride the wave of advertising that so far has focused on the Palladium's superior acoustics. (Spokesman John Hughey would not disclose the center's marketing budget.)
The music groups are counting on the Palladium to bring bigger audiences. If the Carmel Symphony Orchestra's early ticket sales are any indication, they'll get the boost they need.
Davis
Season subscriptions have more than doubled, to about 850, and CEO Alan Davis thinks the four shows scheduled at the Palladium from February to May could sell out.
That's after the CSO doubled its top ticket price from $20 to $40.
"The $40 tickets are by far the ones that have gone the quickest," Davis said.
The CSO has seen its budget grow 60 percent in a single year, from about $450,000 in fiscal year 2010 to $720,000. That's largely to accommodate the Palladium's higher rent, plus an enhanced lineup of guest artists, Davis said. He declined to specify the rental costs because he had not yet signed a contract.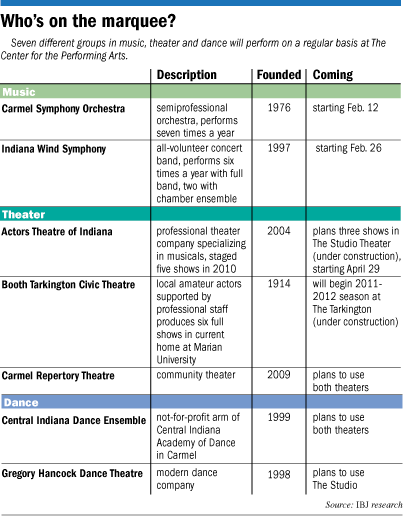 New concert halls typically drive up attendance for orchestras, but the benefit doesn't last forever.
When the orchestra in Madison, Wis., moved to Overture Hall in 2004, attendance grew 40 percent, Executive Director Richard Mackie said.
"There was a lot of anticipation about this building," he said. "It was like a tidal wave, a cultural tidal wave in the community."
The part-time, professional company's subscriber base ballooned to 5,500, but fell back to 4,000 with the recession, Mackie said.
"You have to anticipate at some point that's going to settle down. The hall effect for us was about three years."
In recent years, Davis said, the semi-professional CSO has pulled advertising for concerts at Westfield High School to prevent overstuffing the 900-seat auditorium.
Now, Davis is seeing the effect of pent-up demand, and hopes it lasts. "Hopefully, they will come, they will have a wonderful experience, and they will want to be long-term subscribers."
The Indiana Wind Symphony, a concert band, is scaling up from a smaller base.
The volunteer-led group has a budget of about $25,000 and is looking to hire its first part-time administrator, Howenstine said.
Not that it's unprepared. Last year, the band began charging a regular admission price, $10 to $15, rather than just asking for donations, and added two concerts last summer to raise additional money.
With the higher rent and addition of guest artists, Howenstine said the budget will likely triple by 2012. The musicians hope attendance rises to match.
"We want to prove a concert band is viable in the same kind of venue as a symphony," Music Director Charles Conrad said.
Unanswered questions
With the opening of the theaters still months away, other resident companies have barely begun to try to make the numbers work.
Don Farrell, producing artistic director of Actors Theatre of Indiana, knows one thing: "It's going to be a substantial leap for us."
Like many small theater troupes, ATI has led an itinerant existence. This past season, it subleased a converted storefront in Clay Terrace from Carmel Community Players for most of its performances. Then it held its holiday show at Pike Performing Arts Center, which belongs to the Pike Township school district in Marion County.
Rent for the Clay Terrace space was $1,500 a week, Farrell said. Come April, the company will pay at least $5,000 a week to stage "Chicago" in Carmel's new 200-seat theater, Farrell said.
With costs so high, he said he can't count on an attendance bump to cover the show. He and two co-founders of ATI will spend the first quarter seeking donations. They'll also have to start a tuition-based education program.
"It's one that's going to be necessary for us to make the bottom line make sense," he said.
Calendar control
Many of Carmel's resident companies simply want to escape the venue-hopping that seems to get in the way of building a regular audience.
"Right now, we're pretty much relying on the school theaters," said Suzann DeLay, artistic director of the Central Indiana Dance Ensemble. "A lot of times, we're not able to put out a full season in advance. We have to wait for the school calendar to be set."
DeLay plans to use the Studio Theater next year and to stage a larger production in The Tarkington in the spring of 2012.
But she'll have to look elsewhere to perform "The Nutcracker," which is every dance company's moneymaker. That's because Booth Tarkington Civic Theatre, which has first pick of dates in the 500-seat theater, will occupy it in December.
Civic Theatre will move to the performing arts complex from its current home at Marian University in Indianapolis under a deal struck last year. Civic will pay $10 million within 20 years in exchange for a 100-year lease, the opportunity to specify design of the 500-seat theater, and controlling the venue 75 percent of the year.
Likewise, Carmel Symphony Orchestra has dibs on the calendar for the Palladium. The two larger resident companies will pick their dates even before Libman's team schedules touring acts.
"Control over the calendar is huge," Morris said, and it could be what spells success for the larger companies, while the smaller ones struggle.•
Please enable JavaScript to view this content.