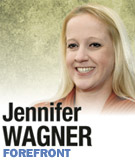 There is a common belief among some local Democrats that Marion County is now solidly Democratic. Look at the baseline trend, they say, and look at the 2010 election, where Democrats almost everywhere else in the state got shellacked up and down the ballot.

Much credit is due for this year's diamond-in-the-rough showing, and a generous portion should go to U.S. Rep. André Carson, a shining star in Marion County and a rising one in Washington, D.C.

This year tells a positive story, but history tells another: When Marion County voters engage in a marquee race, especially in a non-presidential year, strange things can happen to that baseline.

In 1999, Republicans believed it would be a simple transition from Mayor Steve Goldsmith to candidate Sue Anne Gilroy. Along came Bart Peterson, an Evan Bayh protégé who turned a red county blue for the first time in decades. In 2006, Democrats did not win the prosecutor's race despite a banner year nationally.

The following year, the same Bart Peterson who pulled off an upset win eight years prior lost to the virtually unknown Greg Ballard. And the year after that, the county supported Democrat Barack Obama for president and Republican Mitch Daniels for governor.

Next year's municipal races will shape the direction and reputation of our city for decades to come.

Indianapolis is in desperate need of leadership, both the vision to steer a wayward ship back on course and the competence to implement large projects while deftly managing daily operations.

The city, of late, has failed on a number of fronts. The police department, now back in the mayor's hands, is plagued by scandal. Taxpayer-funded bailouts, fee increases and long-term deals have been inked without much consideration for public sentiment. There has been little progress on economic development, and there is a pervasive feeling that things are not headed in the right direction.

All these points should make it easy for Democrats to win back the mayor's office and City-County Council majority next year.

And yet.

Ballard should not be underestimated, in part due to his hands-off governing style. When important decisions are required, he turns to others—often those with a stake in the outcome—for answers. If you can look past the tax hikes and police corruption, the basic functions are basically functioning. A casual observer might remark that if nothing has gone horribly wrong, why throw the guy out? Democrats must make the case that the city suffers from major problems and deserves better than the status quo.

Of course, Ballard's biggest advantage is in the bank: piles of campaign green that will enable him to purchase a reputation as a [insert positive adjectives here] boss guiding the city through tough times.

Democrats might not have all that incumbent cash, but we will nominate a highly qualified, experienced and passionate candidate to run against Ballard, and we will bring strong leadership back to city hall not because of the baseline, but because we have the right ideas for the city's future.

It is my sincere hope that we also will nominate highly qualified, experienced and passionate candidates for City-County Council. It's not the most glamorous job in the world. In fact, it's a lot of work for a part-time salary. But these positions are fundamental, and it's important that we recruit top-notch folks to run, even in districts where we're unlikely to prevail.

Especially critical are the at-large candidates whose electoral fate, more often than not, is directly tied to the mayoral race. If Democrats take back that office, we've got a good shot at the council majority. Let's make sure we put four potential countywide leaders on the ballot.

If prior cycles taught us a lesson, it's that anything can happen in politics, and when voters are angry or inspired, they make unexpected decisions. Indianapolis Democrats are well poised to return visionary leadership to city hall, but we can't afford to take anything for granted.•

____________
Wagner is a lifelong Indianapolis resident who is returning to her native city after working in the Obama administration. Send comments on this column to ibjedit@ibj.com.