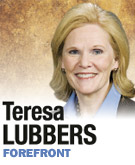 For the past 50 years, Indiana's economy has been losing ground. Using the best overall measure of a state's economic health, per-capita income, Indiana ranks 41st out of 50 states, with Hoosiers earning $5,400 less annually than the national average.
It's no coincidence that Indiana also ranks 41st nationally in the proportion of adults with a college credential (and 45th with a bachelor's degree or higher). For both states and individuals, education attainment increasingly separates the "haves" from the "have-nots," and it's a trend that will become even more apparent in the future.
The available data suggests that nearly two-thirds of all new jobs require a postsecondary credential. That means nearly 1 million Hoosier adults need more education if Indiana has any chance of competing in a global economy.
Indiana cannot meet these growing economic and educational expectations without fundamentally rethinking how we deliver higher education to our students, how we measure progress, and how we reward results. At the Indiana Commission for Higher Education, that understanding is driving a relentless focus on increasing college completion rates, producing more high-quality degrees and increasing operating efficiency.
Indiana annually provides $1.7 billion in total funding for higher education, which accounts for about 13 percent of the state's overall budget. Though few would argue against investing in education, it is our responsibility as stewards of state resources to ensure Indiana gets the best possible return on every taxpayer dollar invested.
That commitment is reflected in our commission's recent state funding recommendations for Indiana's public college and universities. Under our proposal, more than $123 million would be allotted to performance-based funding over the next two years through a formula that favors outcome measures like college degree production over traditional input measures like student enrollment. This change would roughly triple the amount of state money set aside for performance funding compared to the last two-year budget cycle.
The commission's performance-funding formula highly emphasizes college degree attainment, with the majority (60 percent) of incentive dollars directed at demonstrated improvement in the number of degrees that colleges produced overall, degrees completed by students on time and degrees earned by low-income students.
Other performance-based funding factors reward colleges that increased the total number of credits earned by students, and institutions that earned additional dollars designated for research purposes. The commission is also calling for the Legislature to maintain funding for student financial aid and focus state funding for college facilities on projects that would renovate and repair existing campus buildings.
Any employer can attest to the value of performance pay: Everyone has clear goals; results are rewarded; and improvement is incentivized. These principles make sense under any circumstance, but even more so when Indiana's finances are strained and the state's economy is struggling to recover.
Our colleges and universities already are responding with a renewed commitment to innovation and collaboration in such areas as online course delivery, accelerated degree programs, and streamlined transfer partnerships between Indiana's two-year and four-year colleges. Though these approaches will undoubtedly lead to increased efficiency and lower costs, Indiana students also will be better served with expanded education options that offer greater flexibility and opportunity.
In the end, supporting student success is what matters most. Performance funding alone is by no means the answer to every challenge facing our colleges and universities, but it may well prove to be the key catalyst for setting clear priorities and producing results.•
____________
Lubbers is Indiana commissioner for higher education and a former state senator. Send comments on this column to ibjedit@ibj.com.
Please enable JavaScript to view this content.