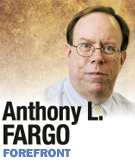 Is everything a partisan issue these days?
That question arose for me recently when a student asked whether efforts to pass a federal shield law to protect reporters from subpoenas for their sources' names would fade away when Republicans retake control of the U.S. House.
It's a fair question, even though the sponsors of earlier versions of the bill were two Indiana Republicans, Sen. Dick Lugar and Rep. Mike Pence. After the Democrats took control of both houses of Congress and the White House, however, chief sponsorship in the current 111th Congress went to Democrats.
The bill passed the House last year but is stalled in the Senate and unlikely to pass before the session ends Dec. 31. If sponsors decide to start over in January, my student wondered what chance a bill sponsored by Democrats in the blue 111th Congress would have in the red 112th.
Expecting political polarization is depressingly natural. For example, it was major news when new Republican Indiana House Speaker Brian Bosma announced he was giving Democrats two legislative committee chairmanships. We are so used to partisan warfare that a relatively modest attempt at bipartisan cooperation seems like front-page news.
But bipartisan cooperation does exist. Much legislation passes in Congress and the General Assembly with widespread support from both parties. We don't hear a lot about it, however. As much respect and affection as I have for the news media, being a recovering journalist and an unrepentant journalism professor, I admit that the press's addiction to conflict stories irritates me. And, of course, the talking and shouting heads on cable television elevate the noise level.
So my student's question did not surprise me. Nor did his assumption that passage of a shield law was a Democratic or "liberal" issue, which would make it anathema to Republicans.
Some things are above politics. One is respect for the First Amendment and what it protects, including free speech and a free press. Another is a commitment to open government, including a desire to make sure the public and the press have access to government documents and meetings.
I have mixed feelings about the shield law, stemming from the compromises needed to get it close to approval and my respect for those who point out, correctly, that being a journalist does not entitle one to break or ignore the law. But my concerns have nothing to do with whether the proposed law is too "liberal" or "conservative."
What I told my class is that, before the Democrats regained control of the House in the 2006 election and the Senate and White House in 2008, the chief sponsors of the shield law bills were two Indiana Republicans. I also told the students that if they examined comments Lugar and Pence made about the bills, they would find that both men described themselves as "good government" Republicans. Lugar and Pence saw a free and strong press as essential to making sure government worked in the best interests of citizens and not just politicians and their friends.
The ascendancy of the Republican Party in Indiana and national politics does not mean the death of legislation that would protect press rights or enhance public access to records and meetings. Such issues are not one-party concerns.
In addition to there being hope for a federal shield law, there is also hope for a bill that gained significant support in both houses of the Indiana General Assembly in the last few years, though never in both houses at once. That bill would add some teeth to Indiana's Access to Public Records Act by making public officials who knowingly and willfully violate the act subject to fines.
The fact that Republicans now control both houses of the General Assembly and the Governor's Office does not mean the bill will fade away. The bill does not concern a partisan issue. Good government should be transparent, no matter who's in charge.•
_____________
Fargo is an Indiana University journalism professor and member of the Indiana Coalition for Open Government. Send comments on this column to ibjedit@ibj.com.
Please enable JavaScript to view this content.