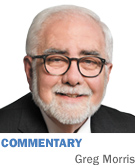 Happy New Year! It's time to focus on work again—almost. It might be Jan. 10 before everyone is physically back in the office from the holiday break, but we're close.

You noticed I said physically back in the office instead of back to work. Now that most of us are connected 24/7, we're working to some degree even when we're out of the office. You don't have to be in the tech business to work remotely from almost any location.

I know a lot of executives don't change their voice mail or e-mail to indicate they are out of the office. They take care of business remotely and set appointments for a date after they return. They hit the ground running when they return to the office. I subscribe to this approach and love it. It helps keep that competitive edge, even while you are enjoying some much-deserved down time.

So, on call or not, many of us have had a nice break after a hard-fought year. Make that a couple of tough years. And while I'm not unaware of the many factors still prevalent that prevent an immediate return to the glory days, I'm still optimistic about the New Year.

I've been "sharpening my saw" and getting organized during this holiday season as I prepare for a productive year. Sharpening the saw is described in Steven Covey's acclaimed book, "The Seven Habits of Highly Effective People." It is the seventh habit—the one that keeps you fresh and enables you to practice the other six habits.

According to Covey, sharpening the saw means preserving and enhancing the greatest asset you have—you. It means having a balanced program for self-renewal in the four areas of your life: physical, social/emotional, mental and spiritual.

On the organizational front, I've been throwing away anything I haven't touched in a year or giving that document to somebody else with the instructions to "keep this." That clears about 90 percent of the paper out of my office. I've reacquainted myself with those projects that are important to complete but were delayed because they were not critical at the moment.

The holiday down time has also enabled me to pull myself out of the day-to-day controlled chaos and actually take time to strategize, analyze and plan. I think I read somewhere that is an important part of my job. In fact, I'm sure of it.

I know many companies have reduced staff and stretched their resources, out of necessity, to save money. Long-term planning sometimes takes a back seat. If the bottom line is not there, you have to do what is necessary to survive and maintain profitability. However, there's a price to pay for focusing on the short term over too long a period of time. If expenses are under control, additional revenue solves a lot of problems and enables you to look at the longer term more often.

Speaking of more revenue, I want to share one of the revelations I had as I prepared for the upcoming year. It might be relevant to your organization. Thinking from a sales standpoint, many sales staffs (and managers) are feeling snake-bitten from the past few years. They're hesitant to propose to clients that the best way to meet their needs is to return to a traditional level of spending. Fear takes over. The thought is, you can't rock the boat—that you should be happy with what you got last year. Never mind that the client is spending 40 percent less than two years ago.

This is the wrong approach.

Sorry to revert to my sales manager mode, but old habits die hard. This year needs to be different. It's time to get back after it. You shouldn't be afraid to present the plan that best meets the needs of your client. Failing to do so is a disservice to them and their potential for success. So ends today's sermon.

I'm hopeful most of you had some time over the holiday season to identify, enjoy and appreciate the really important things in your life. And I trust you are rested and mentally ready to make 2011 a better year for you and your company.

Thank you for your past and future business and thanks for reading IBJ. I wish you success in the new year.•

__________

Morris is publisher of IBJ. His column appears every other week. To comment on this column, send e-mail to gmorris@ibj.com.