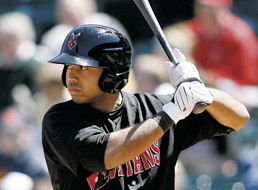 The Indians scored strong profits in 2010 despite posting a losing record. Team officials anticipate an improved 2011 team with some strong prospective recruits. (Photo Courtesy Indianapolis Indians/Bill Gentry)
Despite an economy that has been less than friendly to professional sports teams, the minor-league Indianapolis Indians continue to churn out major-league profits.

In 2010, the AAA farm team of the Pittsburgh Pirates scored a profit of $944,286 on revenue of $9.32 million. That's up from $459,603 on revenue of $8.47 million in 2009.

The Indians rewarded holders of 752 shares of stock with a $300 per-share dividend in November, up from $250 in 2009.

"We had an excellent year in terms of weather and attendance, and we kept a good, tight rein on expenses," said Indians Chairman Max Schumacher.

The financial gains were made despite the team's finishing 71-73, eight games out of the playoffs. Schumacher is confident the Indians will field a better team in 2011.

The team also announced that it would buy back stock for $25,000 per share. The Indians reserve the right to suspend the buyback after 20 shares are tendered. Any shares bought by the Indians would be retired, increasing the ownership stake of all remaining shareholders.

"The board of directors approved this repurchase program in an attempt to provide a means for some of our shareholders to sell their stock," Schumacher said. Indians shares are thinly traded.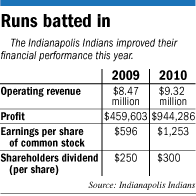 The board members did not obtain an appraisal of the shares, Shumacher said. Instead, it based the buyback price on the price of several shares sold in a 2010 auction of Indians stock conducted by the Indiana attorney general, recent private stock trades and the board's own judgment. Indians shares sold for $25,000 to $27,505 in 2010.

On Dec. 31, 2009, the Indians suspended an offer to buy back shares for $21,328 apiece due in part to the unsteady economy. The $25,000 per-share price values the team at $18.8 million. But with the Indians' financial fortunes back on the rise, some think that valuation may be low.

"Based on recent sales of other minor-league franchises and the history of this team, the stock sale price could be considered a bit of an underestimation," said Richard Sheehan, a University of Notre Dame sports economist and the author of "Keeping Score: The Economics of Big-Time Sports."

One thing that's not in question is the Indians' record of profitability. The team has turned a profit the last 35 years. Strong demand for tickets, suites and sponsorships gives team officials reason to expect more of the same in 2011.

The Indians' attendance increased from 549,552 in 2009 to 569,969 in 2010. That, coupled with a $1-per-ticket price increase, helped ticket revenue increase $268,392 in 2010, to $4.11 million.

"In 2009, we had five rainouts, including the fourth of July, which is historically a sellout, and in 2010 we only had one rainout," Schumacher said. "The weather is one of those factors that makes a big difference, and it's something you have no control over."

But sports business experts said that's not the only reason the Indians have been successful.

"Minor-league baseball franchises in general have done well during economic downturns because they offer family-friendly, relatively cheap entertainment," said Andrew Zimbalist, a sports economist and professor at Smith College in Northampton, Mass. "The franchise in Indianapolis has done especially well in marketing the team to area residents. They seem to be ahead of the curve."

The February opening of the 1,005-room JW Marriott hotel adjacent to Victory Field has Indians officials hopeful that attendance will increase in 2011 and beyond.

The luxury hotel offers panoramic views of the field, and Indians officials are hopeful that will be a solid selling tool.

"It's like having a small suburb outside our left-field wall," said Indians President Cal Burleson. "I think a lot of people, having seen it from inside the JW, will want to come over and experience a game at the ballpark firsthand."

The team's expenses increased slightly last year, to $8.19 million from $7.48 million in 2009, but the increase was more than covered by the team's investment returns.

In 2009, the minor-league franchise lost $648,306 on the sale of marketable securities. It earned $100,417 on the same line item in 2010.

Sheehan thinks the team is poised to, in 2011, surpass the team's 2008 profit of $1.23 million.

"With the economy bouncing back a bit and the continued growth of the downtown, everything is lining up for growth," Sheehan said.

The early 2011 numbers look good. As of Dec. 15, sponsorship sales are running 37 percent ahead of where they were a year ago, and season-ticket sales are 6 percent ahead.

Keeping tickets and concession prices affordable has been key to the Indians' success, Schumacher said, and despite last year's ticket-price increase, he thinks tickets ranging from $8 to $14 keeps them well within the affordable range of most local sports fans. There is no price increase for 2011.

The affordability factor, explained Burleson, also extends to the corporate crowd.

While other local sports venues have struggled to fill their inventory of suites, the 29 luxury boxes at Victory Field have generated more revenue. In 2010, suites revenue increased $122,522, to $834,314.

Schumacher explained that seven of the suites are being sold on a game-by-game basis, and those have been popular among various groups looking to entertain at the downtown ballpark.

Promotional advertising revenue also rose last year almost $400,000. A 6-1/2-foot-by-12-foot videoboard installed in the left-field wall before last season helped push ad revenue, Burleson said.

"The left-field videoboard generated $150,000 in additional revenue in 2010, including $60,000 from new [sponsors]," Burleson said. "Mike's Express Car Wash and Tire Barn are examples of new clients that were attracted by the board. The Hoosier Lottery and Vincennes University were returning partners that increased their level of commitment to the Indians in part because of opportunities connected with the new board."

Burleson expects ad revenue to climb even higher in future years. The Indians have more than $600,000 in multiyear commitments that are tied to the new videoboard.

"We've brought in even more revenue than we projected with the new videoboard," Burleson said. "Our sponsors have been attracted because the board really pops, and you can see it from anywhere in the ballpark."•