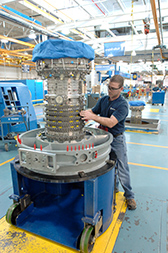 A worker at Rolls-Royce, one of several defense contractors in the state. (IBJ File Photo)
The life sciences industry has BioCrossroads. The IT world has TechPoint. And for the logistics and advanced manufacturing sector, there's Conexus.
Now, Indiana economic-development officials are in the beginning stages of forming a similar industry-marketing initiative for the state's budding defense sector.
A steering committee of industry leaders from military bases, universities and defense contractors will meet this month to start discussing specifics about the leadership and structure of the group, dubbed the Indiana Center for Complex Operations, or ICCO.
Their meeting follows a larger roundtable discussion about the concept in late November. Indiana Economic Development Corp. leaders hope to roll out the initiative by summer.
While far from a trailblazer in defense, Indiana is chock full of assets, ranging from strong engineering universities to the presence of military bases and sizable defense contractors.
The idea is to bring those together to develop more high-tech products used by the military and, in some cases, civilian consumers. Leveraging resources, leaders say, also could help attract more defense contractors and their high-paying jobs to Indiana.
"There are all kinds of building blocks in the state that people haven't known about or thought about," said Chad Pittman, the IEDC's executive vice president and a former Indiana National Guard infantry commander.
Pittman
But such an effort won't come without challenges. The United States has pledged to cut its sizable military spending over the next decade. And the field is already stacked with competition for defense contracts from big-player states such as Virginia and California and budding hubs such as Alabama.
Indiana scored $6.7 billion in defense contracts in 2009, according to the database governmentcontractswon.com. That compares with $8.7 billion that went to Alabama, $45.8 billion that went to California, and $51.1 billion that Virginia scored.
Existing resources
Those invested in Indiana's effort say the state's resources make it well-positioned to grab a greater share of that money.
When it's complete, I-69 is poised to become a defense corridor, with assets along the interstate from its southern to northern stretches, said Michael Snyder, managing principal with the MEK Group, an Indianapolis-based marketing consultancy that specializes in the defense industry.
On the southern end is the huge Crane naval base, where more than 5,000 people work. Through its Naval Surface Warfare Center, Crane has an arsenal of technology experts who coordinate the process of procuring and evaluating high-tech warfare equipment for all military branches.
Farther north are a cluster of defense contractors, including engine-maker Rolls-Royce in Indianapolis, and a swath of companies such as ITT, Northrop Grumman and BAE Systems near Fort Wayne. Indiana has about 134,000 defense-industry jobs, or 2 percent of the 6.7 million nationwide, according to the Indiana Business Research Center.
It's unclear yet how the ICCO will operate or how it will provide the funding that could be required for marketing and to hire a point person to oversee the efforts.
Its structure and strategy could take a page from the Energy Systems Network, a statewide initiative launched in 2009 to promote and provide solutions to the clean-technology sector.
ICCO would focus on issues confronting the military—roadside bombs, for example. Then, its members would combine efforts of the companies involved—from those making Hummers to firms designing censor technology—to develop products to address the issues.
The products could undergo testing at such locales as Muscatatuck Urban Training Center southeast of Indianapolis or the state's two restricted air spaces.
Mitchell
The effort will rely on getting contracts from the U.S. government, but also could include allies such as Japan or England, said Paul Mitchell, CEO of ESN who researched the state's defense industry capability as a former policy director for Gov. Mitch Daniels.
The goal also is to go after so-called dual-use contracts, in which new military technology also can be adapted for consumer products, as innovations such as GPS have been.
But the defense-industry potential goes beyond developing and possibly manufacturing items used in war.
The state wants to become more involved with training for those involved in fighting overseas and working to stabilize and develop countries.
Brigadier Gen. Clif Tooley, commander of Camp Atterbury/Muscatatuck Center for Complex Operations, said facilities such as Muscatatuck work in conjunction with universities to provide that type of training.
In Afghanistan, for instance, there's a push to help the government rebuild the agricultural base and wean the population off the drug trade. Someone working on that effort could learn about agribusiness at Purdue University, receive cultural training at Indiana University, and do physical drills in a simulated urban warfare environment at Muscatatuck.
"It became like a blinding flash of the obvious," Tooley said. "If you were to tie all these pieces together, we'd have something unique in the nation."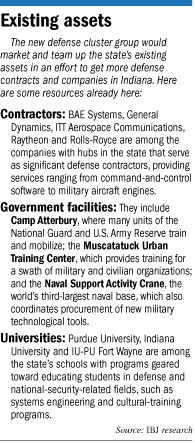 By strengthening those relationships, those involved with the effort say, Indiana could become a more attractive place for defense contractors to locate.
Finding distinction
While the state's advantages sound enticing, the effort won't be seamless.
Current military spending is more than double the roughly $300 billion level before 9/11, said John Pike, director of think tank GlobalSecurity.org. Defense Secretary Robert Gates has talked about cutting $100 billion in defense spending over the next few years.
But Pike said it's not yet clear whether more draconian cuts, similar to those seen in Europe, will be in the offing. That could depend on the status of ongoing conflicts and the mood in Congress over the growing federal deficit.
"It would be an enormous jump," Pike said, "but once the momentum to cut got going, it's not obvious where you would stop."
Indiana economic development leaders, though, say they're not concerned. Even a scaled-back defense budget would still be substantial, and their efforts to develop cost-effective technology could be more appealing in times of austerity.
"We're developing new solutions to the challenges that the war-fighter in the military faces," Mitchell said. "What would be designed here fits very well with the model of a lean, focused Department of Defense."
Wayne Plucker, aerospace and defense manager for California-based consultancy Frost & Sullivan, agreed the new landscape could provide Indiana with opportunities.
Plucker said high-tech work such as surveillance tools—and incorporating new technology into refurbishing equipment—will be the defense industry's "crucial next need." And as companies look for ways to reduce costs, they could be eyeing places outside some of the traditional hotbeds, such as Los Angeles and Silicon Valley, to more affordable locations.
But the migration, experts say, typically has been to Southern states whose warm weather has attracted an abundance of military bases. The presence of those facilities makes it easier to draw defense work.
The fact that "Indiana is stuck on the wrong side of the Mason-Dixon [line]," and also is hundreds of miles from the Pentagon, Pike said, could make it more difficult for the state to compete.
Mike Hudson, former vice chairman of Rolls-Royce North America, acknowledges those challenges. But he said that, in other ways, the state's location is a strength. He noted, for instance, its proximity to NASA's Glenn Research Center in Cleveland and Wright-Patterson Air Force Base near Dayton.
Indiana's defense industry can leverage those resources without becoming beholden to them, Hudson said.
And Mitchell thinks the state has other competitive advantages that outweigh some of its disadvantages.
"We're by no means seen as a state that's flush with military operations. To some extent, we don't have the same volume from which to start," he said. "But what we lack in volume, we make up for in diversity and collaboration."•
Please enable JavaScript to view this content.