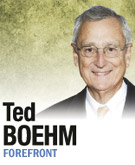 If you voted for any Marion County judges in the last several years, you wasted your time. And the county wasted whatever it costs to put the judicial candidates on the ballot.
How can that be, you ask? Simple. The system has long been questionable, but in 2005 Indiana law was changed to make it downright screwy.
Marion Superior Court judges are "elected" to six-year terms, but each party may nominate only half as many candidates as the number of judgeships to be filled that year. So all Republican and all Democratic candidates win.
This system is unlike any other in Indiana or, as far as I know, anywhere else on this planet. It is a charade to ask voters to "elect" candidates whose election is assured regardless of the electorate's wishes, but there are more problematic consequences. Let me explain.
Marion County has 36 Superior Court judges. They handle the most important cases—from crimes to marriage dissolutions to major civil cases. The parties choose their nominees in the May primary elections, but the primary also has become a formality in judicial selection.
Both parties conduct "slating conventions" in which the precinct committeepersons vote to select the party's "slate." The party's foot soldiers across the county on primary day will push this list of preferred candidates. In races for major offices like mayor or senator, it may be feasible to mount an individual campaign challenging the party organization. But such a campaign requires millions of dollars and a countywide precinct organization.
In judicial elections in big cities, few voters know the candidates, so an individual primary campaign is not a realistic prospect. It is theoretically possible that a write-in or third-party candidate could win in the fall, but that, too, is a practical impossibility. Unless you're a lawyer, you probably can't name more than a few judges.
The number of straight-party-line voters alone would overwhelm anyone without established name recognition who tried to buck this system. And of course the cost of such a quixotic effort would be enormous.
So getting slated is the key to success. This gets us to what's wrong with this system beyond just making a mockery of the general election.
To be considered for slating, the judge must pay a "slating fee" to the party. These fees were once relatively modest, designed to pay the cost of the convention. But both parties have now seized upon judges as captive fundraisers.
There is no meaningful campaign expense for judges under this system, but the parties have charged judicial candidates increasingly outrageous fees, topped by the Republican Party's current $25,000.
So judges are forced to raise money. Of course, much of their funding comes from lawyers. This inevitably degrades respect for the rule of law. How would you feel if you walked into a courtroom about to decide the custody of your children and your soon-to-be ex-spouse showed up with a lawyer who had made a substantial contribution to the judge?
Moreover, because the process is politicized, judges are forced to spend time and energy courting party favor. The public is the loser in this game in both the perception and the reality that the quality of our justice system is less than it might be.
Defenders of electing judges claim the people should choose. But in a mass election in a metropolitan area, politicians—not voters—choose the judges. We all want a judiciary free from threats or fear of retaliation from party partisans. To achieve that, we must remove the political party apparatus as the only meaningful actor in the selection process.
I am not questioning the integrity or quality of the Marion County judges. They do their best under the system we have. But our courts are clogged.
Judges should not be subjected to the perception that they must cater to politicians or funders, or to the time demands of party functions.•
____________
Boehm is a retired Indiana Supreme Court justice who previously held senior corporate legal positions and helped launch amateur sports initiatives in Indianapolis. Send comments on this column to [email protected].
Please enable JavaScript to view this content.