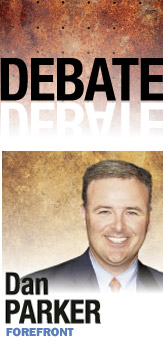 QUESTION: Describe the kind of governor Indiana will need after Mitch Daniels leaves office.
Answer: There's a saying that those who forget history are doomed to repeat it, and we clearly have much to learn from this year's tempestuous campaign cycle.
But there's no rest for the weary in politics, and the 2012 election cycle looms just over the horizon.
In two years, voters will have important choices to make in the races for president and Congress, but the election that will perhaps most directly affect all Hoosiers is the one that will bring new leadership to the Governor's Office.
As we set the stage for that race, we would be well served as Democrats to look back at history—and repeat the traits that have defined our most successful leaders.
If there is one characteristic that immediately tops that list, it is bipartisanship. Put another way, you can't successfully govern Indiana with a divide-and-conquer approach. We're nice people, and we don't like to be yelled at.
Not only do you need to explain what you're doing to the bipartisan group of legislators who ultimately decide whether you implement your vision, but you have to convince Hoosiers you're working for them.
Voters don't want a governor who sells off infrastructure, privatizes vital services and wishes away the budget deficit in a vacuum. Hoosiers want to know that the person they elect to the state's top job is willing to patiently listen to criticism and absorb that input into the decision-making process.
IBJ.COM EXTRA
Click here
to read Murray Clark's viewpoint on this question.
A quarter-century ago, then-Gov. Evan Bayh was able to break down partisan barriers by working with business, labor and local governments to move our communities forward. He reached out to teachers and reformers alike to set high standards for our students without degrading our public education system. Our budget was balanced, our taxes were low, and we experienced record job growth.
The best part: Hoosiers felt invested in their state government, and even those who disagreed with the outcome had a seat at the table during the debate of important statewide issues.
Along those lines, a quality leader gets his or her priorities straight from the get-go.
Past Democratic governors—including Bayh, Frank O'Bannon and Joe Kernan—have tirelessly championed issues such as public safety, economic development and education. This year, in fact, marked the 20-year anniversary of the 21st Century Scholars Program, a successful initiative designed to provide access to higher education for all Indiana families. The program is a testament to strong leadership on an issue that affects all Hoosier students.
Finally, our most successful governors have been honest with the people they serve.
We're living through difficult times—Hoosier families are struggling to make ends meet, but our unemployed workers are constantly worried about what Republicans in Congress and in the Statehouse will do to the benefits and programs they rely on as they search for new jobs.
The Obama administration deserves credit for pushing to protect the American middle class, but here in Indiana, partisan Republicans continue to hide behind faulty jobs numbers, putting their political ambitions ahead of an honest relationship with Hoosiers who need them to work for bipartisan solutions.
Much of the focus in the coming year will be on municipal elections across the state, but would-be gubernatorial candidates will be jockeying in the background to compete in 2012 for the state's top job.
I'm confident Democrats will look to past successes and nominate a candidate who epitomizes bipartisanship, fights for vital issues, and embraces openness and honesty with voters.
Our gubernatorial legacy is strong, and we have much to be proud of. Democrats who governed in the past leave a clear path to success in the future, and we look forward to the 2012 campaign.•
____________
Parker is chairman of the Indiana Democratic Party, and was state director for former U.S. Sen. Evan Bayh. Send comments on this column to [email protected].
Please enable JavaScript to view this content.