Talk about setting the bar high. The owners of the Thai joint in the shadow of Carmel City Center weren't content to call their place a café. Or even a kitchen. It's Thai Castle.
The restaurant (19 E. 126th St., Carmel; 575-8421) isn't much to look at. Located in an aging strip mall at the corner of Rangeline Road and 126th Street, the space is cozy and the food is tasty, but it's the service that's fit for a king. Or queen, as the case may be.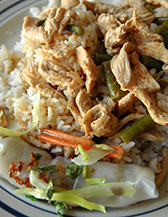 Thai Castle's Panang Curry with Chicken marries sweet with heat. (IBJ Photo/ Perry Reichanadter)
After a failed attempt to visit for a late lunch (the eatery is closed from 2 p.m. to 5 p.m. weekdays), we arrived for dinner to find the restaurant about half full. We were given our choice of tables by a bowing greeter/server (likely the "mom" in this mom-and-pop operation) and plenty of time to peruse the plastic-covered menus—complete with magic marker corrections throughout.
After flirting with several adventurous options (it's got to be authentic if you can't pronounce the name, right?), we opted to play it safe, ordering Pad Thai ($8.95) and Panang Curry with Chicken ($9.95). Entrees come with a fried egg roll, so we took the advice "Mom" offered and tried the Thai Soft Roll appetizer ($5.95).
I wasn't sure what to expect, but for some reason had a vision of doughy dinner rolls dressed up with some Thai spices. Notsomuch, but that was a good thing. The rolls reminded me of egg rolls without the crunchy wrapper—flavorful and light. A sweet dipping sauce provided a nice accent for the vegetable-filled cylinders. Hubby tested his
palate trying to figure out exactly what was in them. I just enjoyed.
The main course was similarly successful—and clearly made to order. One of Thailand's national dishes, the Pad Thai was pretty much what we expected: stir-fried rice noodles tossed with eggs and fish sauce and topped with crushed peanuts. But we missed the crunch of bean sprouts we've had elsewhere.
I also enjoyed my Panang Curry, a soupy concoction that combined the sweet of coconut milk with the spice of a chili-heavy curry paste. The sliced chicken absorbed the flavors well, and the steamed rice served on the side tempered the occasional flare-up.
We debated dessert (sticky rice with custard or fried bananas with ice cream) until "Mom" settled the dispute by delivering bowls of fresh sliced peaches—on the house, with a bow and a thank you. And we felt like royalty.•
—Andrea Muirragui Davis
__________
Second in a month-long look at restaurants within easy reach of Carmel's new Palladium.
Please enable JavaScript to view this content.