Ever since "A Chorus Line" unexpectedly took Broadway by storm in 1975, theater-goers have witnessed a parade of musicals in which a group of characters take turns revealing their inner thoughts.
"Runaways," "Working," "Mail," "The Civil War" and even "Cats" all tried this character-over-plot, revue-style form, with varying degrees of artistic and financial success.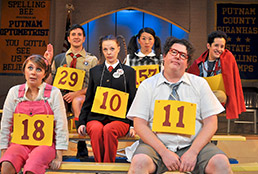 Beef & Boards Dinner Theatre's production of "The 25th Annual Putnam County Spelling Bee" (running through Jan. 30) further establishes it as one of the most durable—and hilarious— contemporary musicals. (Photo Courtesy Beef & Boards)
The best of the post-"Chorus Line" bunch, though, has been William Finn's "25th Annual Putnam County Spelling Bee" which embraced not only the anecdotal structure of "A Chorus Line," but also its "who will win?" driving force. The title contest offers an excuse to get to know a group of kids, each with different reasons for participating in and wanting to win (or not win).
There's Olive Ostrovsky, who calls the dictionary her friend and waits meekly for her father to show up (Mom's at an ashram in India). There's William Barfee, whose surface bluster hides massive insecurity. Marcy Park is expected to be perfect at everything. Logan Schwartzand-grubenierre (a mashup of the surnames of her two dads) wears her differences defensively on her sleeve. Chip Tolentino shows his enthusiasm below the waist. And Leaf Coneybear, well, Leaf is his own special creation.
The new staging of "Bee" at Beef & Boards Dinner Theatre (running through Jan. 30) is yet another reminder of how durable the show is.
This is the fourth production I've seen in as many years and each time reveals nuances in Finn's score and Rachel Sheinkin's book that makes me more of a fan. Each time, talented actors have found different ways to humanize these characters. Sometimes these choices are subtle (as written, Barfee is very specific, but Jayson Elliott is remarkable at showing where his façade cracks). Sometimes these choices are larger (Seth Tucker's Leaf winningly comes across as a younger soul than others I've seen, unable to control his inner superhero).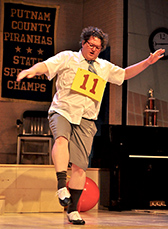 William Barfee (Jayson Elliott) uses his "magic foot" to aid in his spelling in Beef & Boards' "Bee." (Photo Courtesy Beef & Boards)
Dominic Sheahan-Stahl's Chip is more sympathetic than others I've seen in the part. His act II number—concerning a subject I never thought would be addressed at, ahem, length at Beef & Boards—won over the crowd with its confident, no-holds-barred delivery. Frankly, I was bracing for crickets. Instead, there was an ovation. Who says Beef & Boards audiences aren't hip?
Beyond the "kids" (who are all played by adults), Paul Hansen is spot on as Vice Principal Panch, whose definitions and sentences bring some of the biggest laughs. DaRon Lamar Williams is in outstanding voice as paroled comfort counselor Mitch Mahoney. And Licia Watson gives an edge to former winner, now proctor, Rona Lisa Peretti. The latter two, changing characters to play Olive's parents, help make the girl's plaintive "I Love You Song" the evening's most complexly moving sequence, with more layers than a Beef & Boards chocolate dessert (served at intermission).
I don't normally spend so much time mentioning this many cast members. But I felt compelled to here because this talented ensemble did such a strong job of connecting to the audience. Credit should also go to director J.R. Stuart, who knows when to keep things moving and when to slow them down.
My only disappointment is that Beef & Boards didn't totally embrace the spirit of the show as other theaters have. Why isn't the lobby dressed up like a school for the occasion? Why no more effort to recruit audience participation spellers than a ho-hum fishbowl? And where's the rectangular pizza on the buffet?
____________
Playwright Christopher Durang is an acquired taste that I have yet to fully acquire.
Best known for "Sister Mary Ignatius Explains It All for You" and "Beyond Therapy," Durang specializes in anything-can-happen absurdity as he redundantly wields themes as blunt instruments. But for all its smartie smartness, his satiric view seems far less sophisticated than an average episode of "The Daily Show."
I was hoping his latest play, "Why Torture is Wrong … and the People Who Love Them" would help me see what all the Durang fuss is about. It concerns Felicity, a young woman who wakes up to find that, while drunk the previous night, she married the violent Zamir. Of course (?) she takes him home to meet her parents, an ultra-right-wing dad and a batty, theater-loving mom. A misunderstanding leads to the belief that Zamir is plotting a terrorist attack. And a not-for-the-squeamish black comedy ensues.
With a smattering of big laughs in the first act—including some obsession with French toast—Theatre on the Square's production (running through Jan. 22) hints at a rich vein of humor under the surface. But it pains me to say that when Durang runs out of ideas and resorts to cartoonery, the TOTS company can't quite build up the head of steam necessary to make the most of it. And when Durang tries to twist his ending to make a point, it falls flat.
Shining through, though, is Vickie Cornelius Phipps, as the mother. Yes, she's got the daffiest, funniest part. But she handles the non sequiturs with joyful aplomb. And Dave Pelsue as the is-he-or-isn't-he terrorist gives his hot-headed character just enough self-doubt to make us wonder why we don't quite hate a guy who isn't shy about using a date-rape drug.
These two understand that in order for us to buy in to Durang's warped world, the characters need to believe in its truth. •
__________
This column appears weekly. Send information on upcoming arts and entertainment events to lharry@ibj.com. Twitter: IBJArts and follow Lou Harry's A&E blog at www.ibj.com/arts.
 
Please enable JavaScript to view this content.