Conner Prairie last month became the second museum in the Indianapolis area to receive the National Medal for Museum Service, a top honor in the field.
The Institute of Museum and Library Services gives the award to 10 museums and public libraries. The Indianapolis Museum of Art received the award in 2009.
The IMLS cited Conner Prairie's partnership with Indy Reads, in which participants in the literacy program make field trips to the interactive history park in Fishers. Ellen Rosenthal, CEO of Conner Prairie, board Chairman Chris Cooke and Randy French, an IndyReads volunteer, accepted the award last month at a ceremony at the White House.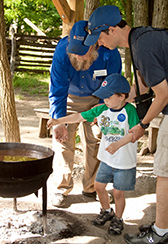 Conner Prairie received the National Medal for Museum Service, a top honor for museums and libraries. (Photo Courtesy Conner Prairie)
Conner Prairie has been providing field trips for IndyReads' adult students since 2001. French, who learned to read through IndyReads, is an enthusiastic supporter of the program and helps recruit students.
U.S. Rep. Dan Burton nominated Conner Prairie for the award, which includes a $10,000 award to help promote its outreach efforts.
Please enable JavaScript to view this content.