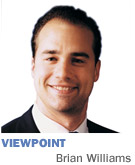 During his last campaign, Gov. Mitch Daniels pledged to increase Indiana's per-capita income. His pledge was consistent with public-private efforts to attract and develop high-wage jobs in technology and the life sciences.

Unfortunately, despite the governor's pledge, the dollars spent by public-private entities and the recession, Indiana's per-capita income has not risen. When per-capita income is evaluated in the context of the city's and state's ability to remain competitive, it is clear we must sharpen our focus.

Income and sales taxes provide roughly 75 percent of state government revenue, which funds education, infrastructure, Medicaid and other essential services.

Indiana pays lower hourly wages for 505 of the 657 occupations surveyed by the U.S. Bureau of Labor Statistics' Occupational Employment Statistics. In total, Hoosier incomes are about 85 percent of the U.S. average, but the cost of living in Indiana is about 92 percent of the U.S. average. This deficit is a contributing factor to the "brain drain."

Because technology-driven occupations are fewer in Indiana and may pay less than the U.S. average, our efforts to attract these jobs at wages above Indiana's current averages, but below national averages, do not help the state cross the insidious gulf between Indiana's per-capita income and the national average. While any new Indiana business that pays its employees more than the current statewide average raises Hoosier incomes, it doesn't help unless it pays more than the national average. The widening gulf between Indiana and the nation threatens our ability to fund schools, parks, libraries and infrastructure at nationally competitive rates.

Only 81 occupations included in the survey pay more in Indiana than anywhere else in the country, and 34 of those 81 are in manufacturing production, which includes automotive parts, medical devices or plastics. Typically, manufacturing facilities require significant capital investments, thereby benefiting the state and local community—high-wage jobs that generate proportionate sales and income taxes for the state and sophisticated facilities that generate property taxes for the local community. Property taxes provide the majority of local government funding for libraries: one institution we rely on to produce citizens, qualified workers, entrepreneurs and civic leaders.

If Indiana is to cross the per-capita income divide, we should pursue an industrial policy that rebuilds Indiana's manufacturing base. Above-average wages reflect Indiana's skills and capabilities in manufacturing.

Despite national policies that may facilitate the transfer of manufacturing capability to low-cost environs, Indiana can look to Oklahoma for a model on how to rebuild its manufacturing base. Oklahoma's effort to build and create high-wage manufacturing jobs has created 400,000 jobs since 1993, nearly double the number of manufacturing jobs Indiana has lost since then.

Recently, Oklahoma tightened its focus by providing greater incentives to companies that provide jobs with an average annual salary of at least $94,000: nearly three times Indiana's average wage and almost double the national average.

An aggressive industrial policy focused on high-wage production jobs provides a compound benefit to Indiana. It helps Indiana fund elementary schools, state universities and services to the elderly, infirmed and handicapped. Because Indiana has a flat income tax and one of the highest sales taxes in the country, we must recruit and develop more of these jobs.

An industrial policy also helps local communities. Without enhancing the tax base, local governments will find it difficult to fund libraries, police and trash services under property tax caps. We should not abandon efforts to create technology and life sciences jobs; however, they should be a secondary objective. In Indiana, we are really good at making things—and that is the future of our economy and way of life.•

__________

Williams is an Indianapolis-based entrepreneur and businessman, who is active in many community organizations.