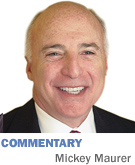 Each January, I reflect on a few of the prior year's columns. I'm always curious about the topics and people I have written about over the course of the year. I hope you are, too.
My March 8 column was a defense of Angela Braly, who found herself under siege. Braly is CEO and president of WellPoint Inc., the largest publicly traded health insurer based on membership, insuring one out of every nine Americans.
She had endeavored to raise rates on some policies, particularly in California, in order to ensure profitability of that sector. I stated that, until the fog of government intervention and control completely blankets health care reform, Braly has the right and obligation to her constituencies to maximize the company's return. Compromises were negotiated and the situation has abated.
I am looking forward to hearing Braly, who was recently ranked by Forbes magazine as one of the world's most powerful women, when she delivers the keynote address at Mickey's Camp this year. Ladies, let me know if you would like to be included on our mailing list for camp, which will be Aug. 16-18.
I devoted 10 columns to what I coined "The Ten Essential Principles of Entrepreneurship You Didn't Learn in School." The first in the series dealt with the people principle. I concluded: "People—the first thing you should look at when evaluating a business deal." That's never gonna change. I was rewarded with lots of thoughtful correspondence on each column in the series. Thank you. I will endeavor to write a book on this subject during 2011.
I interrupted the "principles" series in October to provide advice, in jest, on what Halloween costume to wear. That advice elicited comments, particularly about the suggestion that one could easily dress as a Highland Country Club member because all that would be needed was a white sheet. I referred to the alleged racial discrimination by members of the club against Carl Drummer, George Pillow, Lacy Johnson and Sam Odle, who were asked to relinquish a tee time for lighter-skinned golfers. I received notes from friends vigorously defending the club. Good points were made. I also was called a bigoted racist and other slurs by a couple of the "gentlemen" from the club. In the aftermath, a few members resigned and are in the process of joining elsewhere. Country clubs can ill-afford to lose members. I wish Highland Country Club good luck in rebounding from this unfortunate situation.
The column of Feb. 8 reviewed "Avatar," a breakthrough movie in terms of its special effects but a thinly disguised reprise of oft-used themes and prior treatments including a Jimmy Stewart movie, "Broken Arrow." Now, nearly a year later, another remake and a probable Oscar nominee, "True Grit," is selling lots of expensive popcorn. The first version of the Portis novel starred John Wayne and earned him an Oscar for his efforts. I recommend "True Grit," particularly for those who enjoy this genre. The yarn has not lost any of its charm and exhilarating volatility in the new iteration.
I wrote about Brightpoint stock in the column of June 14 and bragged that my previous investment advice on Finish Line and Steak n Shake worked out well. I'm pleased to say that those who took the plunge on Brightpoint and followed the suggestions in the column enjoyed respectable gains. In response to that column, I heard from a stockbroker who declared that I should stay out of areas where I am not an expert and that one day touting stocks to my readers will land me in big trouble. Nonetheless, I'll keep my eyes open for another idea.
Thank you for reading my columns last year and for responding. I have enjoyed our dialogue. Best of luck to all of us for a healthy and prosperous 2011.•
__________
Maurer is a shareholder in IBJ Corp., which owns Indianapolis Business Journal. His column appears every other week. To comment on this column, send e-mail to mmaurer@ibj.com.
Please enable JavaScript to view this content.