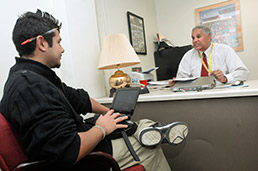 Graduation coach Stewart Hawkins talks to freshman Victor Pina at Howe Community High School. (IBJ Photo/ Perry Reichanadter)
A cash crunch at its Common Goal education program forced the Greater Indianapolis Chamber of Commerce this month to start covering the program's bills out of its coffers.
And the chamber is now looking for other organizations to take over managing Common Goal's various programs aimed at boosting graduation rates at Marion County public high schools.
The financial troubles stem from fundraising woes, which have roiled many not-for-profits' plans over the past two years. Common Goal needed about $1.2 million a year to operate. It roughly met that goal over its first two years but hasn't come close this year.
That doesn't mean the program is entirely out of money. It still has commitments for $400,000 that donors agreed to provide between now and the program's scheduled end in mid-2012.
But in the meantime, the chamber committed its own funds to keep the program going. It has also made—and is preparing more—pitches to raise new funds for Common Goal.
The chamber sees low graduation rates as a huge economic issue, as well as an educational one. Local businesses need educated workers, and the earnings power of high school—and especially college—graduates is markedly higher than dropouts. On top of that, businesses mulling whether to expand in Indianapolis notice the city's low graduation rate—or else other cities point it out to them.
Dorson
"Competing communities have used the label 'dropout factory' against us," said Roland Dorson, president of the chamber.
Common Goal reimburses schools to employ full-time graduation coaches, who encourage students on the bubble of graduating to stay focused on attending school and keeping their grades up. Common Goal also helps pay for computer-based courses to help students boost reading skills and to make up courses they failed.
In addition, Common Goal has deployed 187 volunteer mentors to help students prepare for college and careers. And Common Goal also set up internships for 65 students.
Fundraising has been hammered since the September 2008 meltdown on Wall Street and has been slow to recover as joblessness remains high.
Giving to education causes dropped 12 percent between 2007 and 2009 when adjusted for inflation—more than double the decline in overall giving, according to research by the Center on Philanthropy at Indiana University.
No data for 2010 have yet been released. But there are indications that fundraising was even more challenging. The Salvation Army of Indiana reported this month it has fallen nearly $500,000 short of its fundraising goal this Christmas season—after falling about $300,000 short a year ago. It now must cut programs.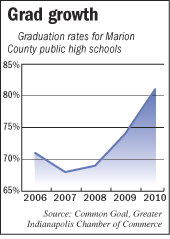 Common Goal had a lot of early fund-raising success, raising $1.7 million in the first year after its launch in 2007. The Pacers Foundation poured in $500,000, Chase Bank gave $300,000, AT&T donated $200,000, and Wal-Mart, Community Health Network, St. Vincent Health and Ivy Tech Community College each chipped in $100,000.
But in the past two years, Common Goal has raised only $800,000 more, for a total of $2.5 million. It needs about $1.3 million to keep the program going full bore until mid-2012.
"We were affected by the same economic hurricane that everybody else was," Dorson said.
Dorson declined to name either the donors the chamber is soliciting or the community groups it has approached to take individual parts of the Common Goal program.
He said it was always the chamber's intent to hand off the program to someone else after four years, or else shut it down. But he admitted the cash crunch has caused the chamber to accelerate those plans.
"The chamber is not in the business of running programs," Dorson said. "So it was always our intent after four years to exit the program."
Dorson said the chamber could have simply ended Common Goal because the goal—an 80-percent graduation rate among Indianapolis high schools—has already been achieved.
Data released last month showed that the 20 public high schools in Marion County had a collective graduation rate of 81.2 percent for seniors graduating last year.
The rate has soared the past two years, rising from just 69 percent during the school year ended in 2008.
Stewart Hawkins, a retired Key Bank executive, has been serving the past two years as a Common Goal graduation coach at Thomas Carr Howe Community High School, which is part of Indianapolis Public Schools.
He said sometimes kids just need to be guided not to sabotage themselves, like failing gym class just because they don't don the dorky outfits or getting suspended for repeated dress code violations.
"I have a couple extra belts in my desk drawer," Hawkins said, for kids who come to school with overly sagging jeans. "You do what you have to."
Other kids have huge family problems they're trying to overcome. And sometimes, Hawkins said, they just need someone to help them believe they can do it.
"Every once in a while, you get one you can convince that their way out of this is through achievement," said Hawkins, 59. He thinks his work is making a difference, adding, "We are very proud of the increase in the graduation rate."
Some in education policy circles, however, have questioned the data from public high schools, as graduation rates across the state have surged. They accuse schools of reducing the number of students counted as part of a graduating class by encouraging parents who allow their kids to drop out to sign a waiver saying they are being homeschooled.
The Indiana Department of Education, in response to the debate, is preparing additional numbers to highlight the percentage of each school's students that are graduating as well as accumulating all the credits and passing the standardized tests the state requires.
Many students do not meet those requirements, but graduate, anyway, after the school wins a waiver from the Department of Education.
Dorson called the debate an "intra-industry" issue that the chamber would not wade into.
He emphasized that Marion County high schools graduated hundreds more students—600 more, in fact—in 2010 than they did in 2007. And he also said there is far more work to be done.
"Our belief is the best economic stimulus that you can possibly have is an education," Dorson said, adding, "We want to have as many kids as possible to graduate. Even if we reached our 80-percent goal, that's still not enough. We need to reach 100 percent."•
 
Please enable JavaScript to view this content.