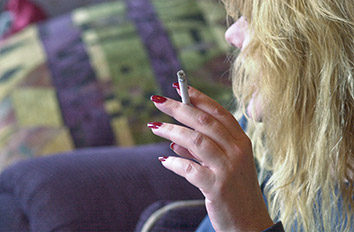 Lawmakers who want to ban smoking statewide and prohibit drivers from using handheld mobile phones have worked for years to sway opponents who denounce the bans as too much government intrusion. Now supporters say those arguments may be diminishing, and they're turning their attention to more practical hurdles such as enforcement and cost.
Advocates say both the mobile phone bill and the smoking ban are issues of health and safety, and that protecting people should outweigh any philosophical concerns. Republican Gov. Mitch Daniels said Thursday that he would sign both bills into law if the General Assembly approves them.
"These are balancing tests," Daniels said. "That's exactly what the Legislature's for."
Lawmakers have lots of factors to weigh when considering the bills, including potential costs. Casinos and bar owners have argued that a statewide smoking ban would hurt their businesses, and the nonpartisan Legislative Services Agency estimates a ban could cost the cash-strapped state up to $187 million in lost gambling taxes next year.
The figure surprised some House members, who said they would work with analysts to determine whether the estimate could be trusted.
Rep. Charlie Brown, a Democrat from Gary who has fought for a smoking ban for years, sees growing momentum for the proposal but fears opponents will use the potential cost as an excuse to push for the bill's demise.
"That will be my biggest hurdle," he said.
Supporters of bills to ban mobile phones while driving say most people support such proposals because they know the dangers of distracted driving. But enforcement has been a sticking point for previous attempts to outlaw texting while driving.
This year, Sen. Travis Holdman, R-Markle, wants to ban the use of handheld mobile phones for drivers in an effort to eliminate both texting and talking on a handheld phone while driving. Drivers would still be able to use speakerphones, Bluetooth technology or in-vehicle systems to talk, but the law would make it easier for police to determine whether a driver was using a phone inappropriately, Holdman said.
Kira Hudson of Indianapolis has urged lawmakers to pass a mobile phone ban for several years. She attends committee meetings in the wheelchair she uses after being partially paralyzed in 2005 when she crashed her car in Noblesville while on the phone with her boyfriend.
Indiana State Police say mobile phones played a role in more than 1,100 crashes last year, including four that resulted in fatalities. But Hudson said some lawmakers still don't think those statistics present enough of a problem to warrant a bill.
"They think it won't happen to them," she said.
Even if practical issues such as enforcement and cost can be solved, some lawmakers question how far the government should go in trying to protect its citizens. Sen. Mike Delph, a Republican from Carmel who supports limited government, opposes both the smoking ban and the mobile phone ban.
"The government wants to wrap people in bubble wrap to protect them from every single harm," Delph said. "It's just not realistic. It would be too expansive and too costly for us to legislate protection of every citizen against every harm."
A House committee has scheduled a hearing on the smoking ban for Wednesday, and the sponsor of the mobile phone ban expects a hearing in the Senate within a few weeks.
Please enable JavaScript to view this content.