Welcome to the latest installment of "Leading Questions: Wisdom from the Corner Office," in which IBJ sits down with central Indiana's top bosses and civic leaders to talk shop about their latest challenges and the habits that lead to success.
Rick Alvis, 58, recently celebrated his 20th year at the helm of Wheeler Mission Ministries Inc., the local nondenominational Christian social-services organization. In the video below, the Wheeler president and CEO describes the tumult that awaited him when he joined the organization in 1990 and how the resulting strategy of tightly defining the group's mission has helped the agency weather a more recent crisis.
Although perhaps best known for its men's mission at 245 N. Delaware St., Wheeler operates eight facilities across central and southern Indiana serving homeless and needy men, women and children. In addition to providing daily shelter and meals for the homeless, Wheeler also offers longer-term housing for those transitioning to employment and stable housing, as well as medical care and addiction-recovery programs.
Its main challenge during cold-weather months, however, is coordinating the Winter Contingency Program for the city for Indianapolis, which guarantees housing and meals for the homeless once all other shelters in the city are filled to capacity. In addition to long-term residents, Wheeler facilities house as many as 400 to 500 people per night during winter months.
Men seeking shelter for a single night typically are housed at the Wheeler Mission Lighthouse Center at 520 E. Market St., which has 124 beds and room for another 46 people to sleep on the floor.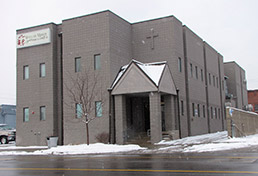 The Wheeler Mission Lighthouse Center at 520 E. Market St. is slated for a $1.5 million expansion and renovation. (IBJ Photo/ Mason King)
Now Wheeler is planning to expand the two-story Center by 5,000 square feet, building a two story-addition to the north side of the facility and renovating some of the existing building. The cost of the project is estimated at $1.5 million, which Wheeler hopes to raise in an upcoming capital campaign.
The expansion would increase the number of beds to 200. "We're trying to avoid putting people on the floor," Alvis said.
Work likely would begin in spring 2012, Alvis said, after the campaign was well under way. Wheeler is eyeing several projects for the fundraising effort, including building a new multipurpose building and more lodges at its Camp Hunt facility for addiction recovery programs near Bloomington.
"We're doing a directional study right now to find out how much we can raise," Alvis said.
In 2008, Wheeler embarked on a fundraising program that had a secondary goal of creating a reserves fund much like an endowment. In the following video, Alvis discusses the fate of that initiative, as well as several other issues related to the group and local homeless population.
Please enable JavaScript to view this content.