Fans of the popular Superman franchise may want to clear their calendars on Jan. 22.
One of the world's largest collections of the superhero's memorabilia, once on display at a downtown Indianapolis museum, will go up for auction at 2 p.m. at Antique Helper Auctions on the city's northeast side.
"There's a lot of speculation about the value of a collection of this type," said auction house owner Dan Ripley. "Once it's represented to the market, we'll know what the fair market value is. There are some wild estimates about the value, but now we'll know."
Thousands of items—ranging from movie posters to collectibles—will be for sale. But perhaps the most prized possession is a vintage costume worn by George Reeves, star of the 1950s "Superman" television program, estimated at previous auctions to be worth $120,000 to $150,000.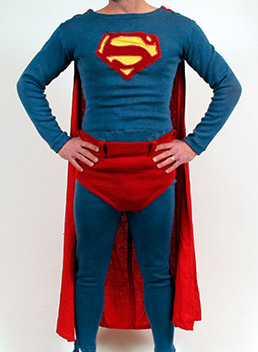 George Reeves' "Superman" costume is among items to be sold. (Photo courtesy Antique Helpers)
For reasons unknown to him, Ripley said, the entire collection has been offered and then removed twice at auction, in 2009 and 2010. Ripley has only been in possession of the collection, which had been in storage, for less than a week
The items were owned by Fishers collector Dane Nash, who in March 2007 opened his American Super Heroes Museum in downtown Indianapolis. It closed just 10 months later after encountering legal and financial problems.
Items offered at auction were seized by court order and will be offered without a reserve price. For Ripley, that's what makes this sale so unusual.
"It's a true liquidation situation," he said. "We mostly present collections not sold under duress. A collection like this, for us, would typically be reserved at some level for price. That's the most unique aspect of the sale for us."
The assortment is considered to be the second-largest collection of Superman-related memorabilia in the world and is generating national interest from some of the major players in the entertainment memorabilia market, Ripley said.
Doug Stephenson, vice president of Downtown Comics on Market Street, said he may attend.
"[Nash did] have some old comics and stuff, but what he was really into is … the original costumes," Stephenson said. "Really, really high-end stuff that only a limited number of people in the world would be interested in."
Also available are costumes reportedly worn by the late Christopher Reeve in his "Superman" movies and by Dean Cain in the "Lois and Clark" TV series, as well as a costume said to have been worn by Helen Slater in the 1984 "Supergirl" movie.  Bidders interested in high-end pieces, including the costumes, can submit offers remotely, via phone or Internet.
Other superheroes represented at the auction include Batman, Spider-Man and Wonder Woman.
Please enable JavaScript to view this content.