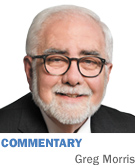 January is National Mentoring Month. This year marks the 10th anniversary of the media campaign designed to recruit volunteer mentors for young people. This year's campaign focuses on mentoring as a strategy for boosting academic achievement, which dovetails nicely with Gov. Daniels' education initiatives.
Research shows mentors can play a powerful role in a young person's life. A mentoring relationship helps reduce the potential for bad behavior and gives a boost to academic achievement. Mentors help to build young people's confidence, expand their horizons, and help them navigate a path to success.
Central Indiana has so many great organizations, staff and volunteers involved with mentoring that space prohibits listing them all here. Yet the need is still great, even with all the resources available locally. There are more young people in need than mentors to go around.
The Marion County Commission on Youth is a co-convener of the Alliance of Youth Mentoring Agencies in Central Indiana. These organizations are working to expand the reach, impact and quality of local programs that connect young people to prepared adult mentors. There are 48 member agencies listed on the commission's website.
Some of the member agencies are Big Brothers Big Sisters of Central Indiana, 100 Black Men of Indianapolis (a great organization I've become familiar with through Mickey's Camp), College Mentors for Kids, YMCA, Boys & Girls Clubs of Indianapolis, Starfish Initiative and, of course, United Way of Central Indiana.
I want to highlight one youth-mentoring organization you may not be familiar with. College Mentors for Kids exposes at-risk youth to opportunities of higher education through weekly activities and a mentoring relationship with a college student. These kids are in grades one through eight. Last year, approximately 1,300 youth were matched with 1,500 college student mentors and volunteers across 20 campuses in Indiana, two in Ohio, and one in Illinois. More than 30 elementary and middle schools are paired with different college campuses. The kids are called "Little Buddies" and they make 20 visits to the college campus over the course of the school year.
Results of a recent survey of parents and kids showed that 77 percent of children reported they have tried harder in school since becoming a Little Buddy, and 93 percent say they want to go to college. About three-fourths of parents report that their child displayed improved self-esteem, and 93 percent say their child's mentor was a positive role model. I really like this statistic: 90 percent of College Mentors' seventh-graders passed the English/Language Arts portion of the ISTEP, compared with 55 percent of their peers, in 2009.
Erin Slater is the CEO of College Mentors for Kids. Like most passionate advocates, she works tirelessly. Erin wants to make college a possibility for everyone. She has a vision that every college campus in the country will have a mentoring chapter someday. In 2009, Erin won a contest sponsored by Martha Stewart called "Dreamers into Doers." The prize was $10,000, to be used to help the organization. The "Dreamers into Doers" contest celebrates women who have turned their passion into a profession. Erin has certainly done that, going from the chapter founder for the Purdue University campus to her current position as CEO of the organization in the past four years.
Recognizing folks that make a difference in kids' lives is also an initiative of College Mentors for Kids. The organization is hosting the second annual Inspire Awards luncheon Feb. 23 at the Indiana Roof Ballroom. These awards celebrate the mentoring efforts of eight individuals and one organization that have inspired excellence in the workplace or the community. Nominations, which close Jan. 26, are now being accepted. You are invited to nominate a deserving person or organization at www.collegementors.org.
College Mentors for Kids is just one of many outstanding organizations in central Indiana working on behalf of our youth.
In recognition of National Mentoring Month, if I leave you with anything, I hope it is to consider becoming a mentor. Help a young person find the path to his or her dreams. Encourage young people to believe they can be a success in school and life. Let them know help is there when they need it. You won't just make a potentially life-changing difference in someone's life, you will benefit greatly also.
Be a mentor!•
__________
Morris is publisher of IBJ. His column appears every other week. To comment on this column, send e-mail to gmorris@ibj.com.
Please enable JavaScript to view this content.