Rolls-Royce Corp.'s decision whether to move about 2,500 office employees to a former Eli Lilly and Co. downtown campus could hinge on three critical factors—parking, incentives and lease terms for the space.
Hanging in the backdrop is a $155 million mixed-use project proposed near Lilly's Faris campus. City leaders say approval of the so-called North of South project could make the site more attractive for Rolls-Royce, but the project has been controversial among public officials who are expected to vote on it next month.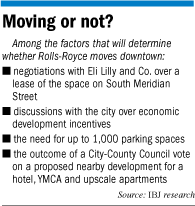 In November, Rolls-Royce, an aircraft engine-maker with more than 4,000 employees in Indianapolis, announced it had begun talks with Lilly about occupying its 465,000-square-foot Faris campus on South Meridian Street. Last summer, Lilly began relocating the 1,000 employees who worked there amid staff cuts and a push to consolidate employees.
Lilly began construction on its $58 million Faris campus in 2001 with development partner Kite Realty Group Trust, and it opened the following year. The campus includes the renovated Faris and Brougher buildings, a new 150,000-square-foot office building and a parking garage—all west of Meridian Street between Merrill and South streets.
Real estate experts say the new downtown space would be a big upgrade from London-based Rolls-Royce's current half-dozen local facilities, which are spread across Indianapolis' southwest side and in Plainfield.
But a move of this magnitude would be complex, with parking among the stickiest issues. The Faris garage can accommodate 1,550 cars, about 1,000 shy of the number of employees Rolls-Royce has discussed moving.
The critical questions are what the costs of moving will be, and whether the amenities that come with a downtown location merit them, real estate observers said.
"Providing a clean, safe, well-lit work environment is typically really high on the list of employers if they want to retain and attract the best talent," said Jon R. Owens, a senior vice president with the commercial real estate firm Cassidy Turley who is not involved in the negotiations. "The Faris campus would be a significant upgrade in facilities. The bottom line is, how much is it worth to them?"
Rolls-Royce has touted the potential move as a way to reduce operating costs by bringing employees from its various facilities into one location.
Huber
Factoring into the cost equation are negotiations with Lilly over the site. Neither Rolls-Royce nor Lilly officials would comment on the discussions, but city officials said the deal most likely would be structured as a lease as opposed to a sale.
Rolls-Royce would lease the space directly from Lilly, which purchased the campus from Kite before the company went public in 2004. Tom McGowan, Kite's CEO, declined to disclose the sale price.
A lease could bring challenges a sale would not, Owens said. For example, changes to accounting rules proposed by U.S. and international standard-setters would require companies to account for leases as liabilities on their balance sheets within the next few years.
In Rolls-Royce's case, that would mean a lease of the Faris campus would translate into millions of dollars in liabilities on financial statements—something the company might consider undesirable.
Details to negotiate
What Rolls-Royce would pay to rent the space is unclear. Annual rent for Class A office space downtown typically ranges from $19.50 to $26 per square foot. CB Richard Ellis' listing for the property calls rent terms "negotiable."
Jeff Luebker, CB Richard Ellis' broker on the deal, could not be reached.
Owens said the fact that Rolls-Royce likely would use all the campus makes it a more attractive tenant because it's costly to subdivide space.
Also factoring into the picture are economic development incentives.
Michael Huber, Indianapolis' deputy mayor for economic development, said the city is discussing incentives with Rolls-Royce but would not elaborate on specifics.
He said drawing Rolls-Royce downtown would be a boon to the area, and would help solidify the company's long-term presence in the city.
The relocation also would give a boost to the sluggish downtown office market, which has a vacancy rate topping 20 percent.
Owens said he would expect to see the city offer incentives for a relocation of such magnitude.
"If they're really contemplating 2,500 jobs in that location, it will have an immediate impact on the vicinity," Owens said. "You'll see business services and housing projects fill in spaces."
But awarding incentives, at least certain types, would require City-County Council approval.
And some councilors say they would vigorously scrutinize this type of deal.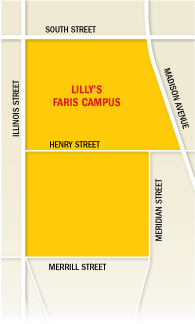 "We can't think by accommodating the desires of the business, that's always going to be beneficial to the community," said Brian Mahern, a council Democrat. "We have to expect—and people have to be prepared to present their arguments—that the deal is necessary."
Incentives could help soften the impact of one-time expenses to retrofit the space for the needs of Rolls-Royce workers, as well as blunt the impact of downtown's higher property taxes.
Parking will add to the cost.
Huber said there would be many ways to supplement the parking available in the Faris garage, but the city does not have specific solutions at this point.
Owens said potential options include parking near the main U.S. Post Office and Lucas Oil Stadium.
Central location
One prominent downtown office tenant said the benefits of being downtown outweigh the disadvantages of having to wrestle with such complications.
Todd Richardson, ExactTarget's senior vice president of real estate, said the central location is convenient for his company's employees, who are spread across Marion County and surrounding suburbs.
The e-mail marketing company houses workers in three downtown buildings, including its headquarters in the Guaranty Building on Monument Circle.
"Our employees appreciate the vibrancy of the downtown fabric," Richardson said. "Specifically around the arts, the sporting events—just the general energy."
City leaders hope the North of South project will add to the draw in the area near the Faris campus.
But it's not clear whether the proposal for apartments, a YMCA and an upscale hotel north of South Street between Delaware Street and Virginia Avenue will pass council muster.
Council President Ryan Vaughn, a Republican, said he expects a close vote. The project has raised eyebrows because of the risk the city would assume in the deal, which calls for $9 million in tax-increment financing dollars for infrastructure improvements and the city's guaranteeing an $86 million loan.
A council committee reviewed the project Jan. 12 and is expected to vote on it later this month.•
Please enable JavaScript to view this content.