Franklin Street Properties spent $41.6 million in July 2005 on two office buildings at Keystone at the Crossing in a deal that set a new high-water mark for the local office market.

More than five years later, the Massachusetts-based company has closed on another eye-popping office acquisition in Indianapolis.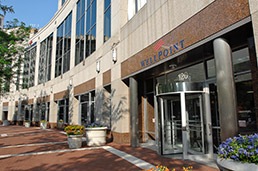 The headquarters of WellPoint on Monument Circle sold late last year to a Massachusetts company for a rich $196 per square foot. (IBJ Photo/ Perry Reichanadter)
The publicly traded real estate investment trust acquired the Monument Circle headquarters of insurance giant WellPoint Inc. late in 2010 for $42 million—a rich $196 per square foot—from an affiliate of locally based HDG Mansur.

The 213,600-square-foot building at 120 Monument Circle sits on the former home of the ornate English Hotel & Opera House, which was demolished in 1948 to make way for a J.C. Penney.

A $30 million redevelopment in the early 1990s to accommodate a new headquarters of what is now WellPoint gave the former department store a new façade and two rooftop turrets, referencing the former Opera House.

The last time Franklin Street snagged a local property—One and Two River Crossing, next door to the Marriott North Indianapolis—the deal closed at about $203 per square foot, more than $50 higher than any previous sale of a Class A multitenant office building in the city. The sale led several local owners to put their own properties up for sale.

Market observers aren't reading as much into Franklin Street's deal for 120 Monument Circle. That's because the latest deal was driven mostly by having a premier tenant, WellPoint, which occupies more than 90 percent of the building and has nearly 10 years remaining on its term.

There aren't many office buildings for sale where a single tenant occupies an entire building and has credit as solid as WellPoint's, said Jon R. Owens, a principal in the local office of Cassidy Turley.

The Monument Circle building fetched pretty close to its replacement value of about $250 per square foot, Owens noted. A buyer might offer a similarly high price for properties leased by Eli Lilly and Co.

The deal shows how big a premium buyers will pay for well-located buildings with stable tenants, said John Merrill, managing director of the local office of Los Angeles-based CB Richard Ellis, which brokered the deal out of its Seattle office.

"Obviously it's an irreplaceable location, a great credit tenant, and a pretty good term remaining," Merrill said.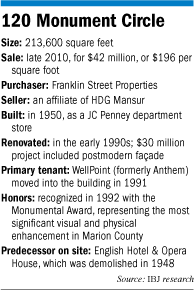 Values of multitenant buildings typically are lower since buyers have more to consider in settling on a value, including the credit of more than one tenant and questions over how to value common areas and parking facilities.

"I could not name a multitenant building that could garner [a similar price per square foot] in this market today," Merrill said.

He figures Chase Tower, the city's most desirable multitenant building, would sell for about $180 per square foot. Owners of most other such buildings would struggle to command $100 per foot.

"It's a risk-averse market," Merrill said. "I've never seen a wider gap between pricing on a stabilized property and one with leasing risk."

The peak price for multitenant downtown office buildings came in 2004 when Market Tower traded for a scorching $160 per square foot. Chase Tower also traded in 2004, for about $150 per square foot.

In the 2004 Market Tower deal, HDG Mansur and a partner bought ownership stakes in the building from locally based Mansur Real Estate Services and a partner.

HDG Mansur—the company that sold 120 Monument Circle—has its offices in Market Tower and is led by Harold Garrison, a former principal in Mansur Real Estate Services.

Other significant Indianapolis office sales in 2010 include the Indiana State Teachers' Retirement Fund's purchase of One North Capitol, and Summit Realty Group's purchase of 241 N. Pennsylvania St. to serve as its new headquarters.•