I never thought I'd say this, but thank goodness for false advertising. The posters and other marketing materials for Dance Kaleidoscope's "The Elvis Project" (Jan. 6-9) featured dancer Kenoth Shane Patton in tight aqua pants, matching wide headband and wraparound glasses, evoking less the King of Rock 'n' Roll than a character in Newt Gingrich's worst nightmare.
Having watched awkward costuming get in the way of DK dancers' effectiveness in the past, I figured I could skip this one. But I didn't.
And I'm happy to report that the cringe-worthy garb was nowhere to be found on stage. Neither was Patton's stupid/smug attitude. Misleading marketing? Perhaps? Enormous relief? Absolutely.
The show began with the David Hochoy-created "Elvis in Love." Anchored with mostly familiar Presley tunes ("Don't Be Cruel," "Teddy Bear," etc.), it paid hip service to the famed swivel but, choreographically, played more as a series of exercises than a complete piece. That isn't to say there weren't strengths, particularly the always interesting Jillian Godwin (I look forward to how and when Godwin will be creatively thrown and caught in each DK show). Spunky, even if not yet polished, apprentice Jamie Ripsky added youthful zest.
More complete, despite a low-key climax, was Cynthia Pratt's "Taking Care of Business," featuring songs not primarily associated with—but still covered by—Presley, including "Always On My Mind" and "Steamroller Blues." Here, Laura Glover's lighting, Pratt's thrillingly non-symmetrical arrangements, restrained costumes from Cheryl Sparks and, OK, some great hair conspired to create a sexual
energy I haven't seen before from DK. That was particularly evident in "Fever," featuring Brandon Comer, Mariel Greenlee, George Salinas and Cailin Swihart, all bringing terrific energy, skill and heat to what could have been a Vegas retread.
FYI: Turns out the photo that almost kept me from attending was staged months ago while the season was being planned.
____________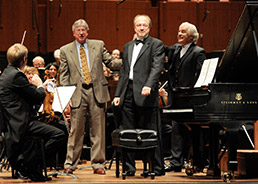 Composer Claude Baker joins pianist Marc-Andre Hamelin and conductor Gilbert Varga at the ISO world premiere. (Photo Courtesy Indianapolis Symphony Orchestra)
That same weekend, the Indianapolis Symphony Orchestra introduced a new work, sandwiching Claude Baker's "Concerto for Piano and Orchestra" between Mozart's popular "Don Giovanni" overture and Cesar Franck's crowd-pleasing "Symphony in D Minor."
Smart programming, it turns out. While I admire and appreciate the ISO's commitment to launching new work, I would be disingenuous if I didn't say Baker's work is not one that resonates on first listening.
Repetition and the introduction of melodies quickly abandoned kept it at an academic distance. When interest flagged in the material, though, it was often reignited by conductor Gilbert Varga, who brought definitive passion to all three pieces. Pianist Marc-Andre Hamelin was another welcome addition, keeping the focus even when having to reach into the strings of the piano to create the sounds Baker demanded.
____________
As yet another in a series of Phoenix Theatre world premieres, Samuel D. Hunter's "Norway" has arrived in strong shape.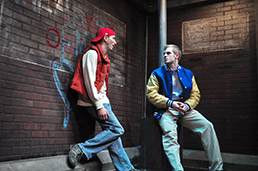 Brent (Scot Greenwell), left, and Andy (Matt Goodrich) meet in the Walmart parking lot as teenagers in a scene from the Phoenix Theatre's "Norway." (Photo Courtesy Phoenix Theatre)
The setup is a familiar one: Andy has committed suicide. Fundamentalist father Mark, obsessed with knowing what happened, tracks down Brent, who was outed in high school by his friend Andy. Surely something must have been up between the two. Now Brent is a pianist/lecturer whose gimmick is to provoke listeners to hear overtly familiar music in new ways. To Hunter's credit, he doesn't milk the metaphoric connections. He understands that we don't engage with types, we engage with characters, and he has created a trio that seems to understand that they and their situation are, on the surface, clichés.
A smart combination of surprises and unanswered questions is enough to put "Norway" on the map. A trio of well-cast, truth-focused actors (Matthew Goodrich, Scot Greenwell and Daniel Scharbrough) give the playwright (who will be in town for a post-show discussion on the 22nd) a clear vision of the play he's written.
"Norway" runs through Jan. 30 in the well-used Frank & Katrina Basile Theatre.•
__________
This column appears weekly. Send information on upcoming arts and entertainment events to lharry@ibj.com. Twitter: IBJArts and follow Lou Harry's A&E blog at www.ibj.com/arts.
Please enable JavaScript to view this content.