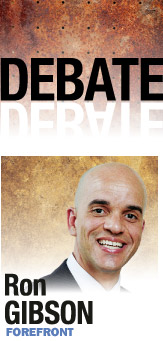 Question: Why would you make a better mayor than your Democratic opponent?
Answer:My vision and passion for Indianapolis and all of its citizens will clearly separate me from my opponents. As a life-long resident of Indianapolis, I am fully aware of the concerns of its citizens, including those who are held hostage in crime-ridden neighborhoods. There are others who have struggled with unemployment for many months. Far too many students occupy our streets instead of the classrooms. I will be a voice for those who have had little to no say at all regarding what happens in Indianapolis.
Jobs: With thousands unemployed for many months and no real possibilities in sight, Indianapolis needs an employment movement. In order to attract and retain more jobs in Indianapolis, we must grow the people in knowledge, skills and abilities to qualify them to meet the demands in areas of research and development, life sciences, information technology, advanced manufacturing, logistics, energy and green jobs. Also, we must implement ideas that will benefit small businesses and encourage creation of new ones. In order to ensure sustainable job growth, there must be significant investment in mass transportation, technology and training.
Education: The current graduation rate is clearly unacceptable, and I will not be satisfied until every child in Indianapolis has at least a high school education. I will put education on the same level of importance as jobs and public safety. As mayor, I will lead like no other in the area of demanding quality public education. I will seek and support accountability from parents, children, schools and local government, including reporting to the city the names of all youth who have dropped out or been expelled. With the reporting, I will ensure adequate resources are provided to get them on track for a successful future.
Public safety: It is true that homicides are down in Indianapolis, but I strongly believe that one murder is too many. A study shows that neighborhoods with an average annual income of less than $33,000 are more than four times as likely to be robbed. I want to ensure that citizens are safe from crime no matter where they live by restoring confidence in IMPD, ensuring more police are on the streets, and providing active community policing. Also, I want to focus more effort and resources toward ex-felons to provide real opportunities for a second chance at gainful employment and training in order to greatly reduce recidivism and foster responsible citizenry from those who have paid their debt to society.
Fiscal responsibility and reform: City government will have a large structural gap between revenue and spending due to property tax caps and loss of revenue from the recession and unemployment. Therefore, pay-as-you-go and budget caps will be necessary in order to control spending. Also, I will reinvent local government at all levels to further reduce the cost of providing public services while, at the same time, implementing policies that encourage higher economic growth rates.
I am very optimistic about the future of Indianapolis. Much of our success will depend on greater involvement in our communities by our citizens and businesses. Certainly, local government cannot do it alone. Our churches, faith-based institutions and not-for-profit organizations have a wealth of knowledge and capabilities for improvements of our neighborhoods. One of my initiatives called "Empowering Faith in all Communities" will be a catalyst for change and will help meet the social, educational and economic needs of our citizens. At the same time, we must encourage and welcome all contributors to the betterment of our city.
Indianapolis has a long history of excellence that must not be allowed to diminish for political gain. My team and I are up to the challenges. I ask for your vote, support and involvement as we all strive to make Indianapolis better than it has ever been.•
____________
A consultant, Gibson is a former city-county councilor and a candidate for the Democratic nomination for mayor of Indianapolis. Send comments on this column to [email protected].
Please enable JavaScript to view this content.