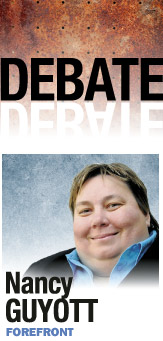 Question: Should right-to-work legislation be considered by the Indiana General Assembly?
Answer: Throughout Indiana's history, in difficult economic times Hoosiers have found ways to come together. We've stood shoulder-to-shoulder to do the work, meet the challenges, and make the necessary changes to keep moving forward.
Indiana's most significant economic progress always has been a result of our ability to strike a balance among the needs of businesses, communities and workers.
Yet, with the introduction of so-called right-to-work legislation in the 2011 session of the Indiana General Assembly, that economic approach is being threatened by a politically motivated attempt to silence the voice of Indiana's work force.
Passage of such legislation would mean unions could not negotiate contracts that say all workers must pay for union representation.
Regardless of the political ramifications, this legislation is simply wrong for Indiana. If passed into law, it would cause irreparable economic harm to our citizens, our communities and our collective future.
Based on experiences of the 22 states that currently have right-to-work laws, here are some of the effects Hoosiers can expect if it becomes law here:
• Wages for all workers would be cut. Union and non-union workers in states with these laws make an average of $5,538 less a year than those that live in states without the law.
• Benefits would be reduced. Employers in right-to-work states are less likely to offer benefits and workers are losing health insurance coverage 70 percent faster than those in other states.
• Indiana's fragile economy would take another hit. With the reduction of wages and benefits, Indiana's economy stands to lose an estimated $17.3 billion, as fewer dollars are circulated through the economy by Hoosier workers.
• Workplace safety would suffer. According to the U.S. Bureau of Labor Statistics, the rate of workplace deaths is 50 percent higher in right-to-work states.
• The overall quality of life would decline. The infant mortality rate is 16 percent greater in right-to-work states, while the poverty rate is 26 percent higher for children and 19 percent higher for all residents.
While the proponents of this bill argue that enacting such a law would create countless new jobs, the experiences of other states indicate otherwise. For instance, Florida, a right-to-work state, ranked dead last in the percentage of private establishments gaining jobs during the last two decades.
In fact, a recent survey found the existence of right-to-work ranked 24th out of 26 factors in terms of importance to corporate executives with business location decision-making authority. This may explain why national economic development publications like Area Development and Site Selection list Indiana among the top states for businesses to relocate.•
____________
Guyott is the first woman elected president of the Indiana State AFL-CIO and a former Indiana labor commissioner. Send comments on this column to ibjedit@ibj.com.
Please enable JavaScript to view this content.