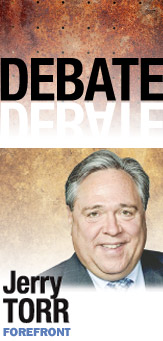 Question: Should right-to-work legislation be considered by the Indiana General Assembly?
Answer: With our unemployment rate hovering around 10 percent, jobs are on everyone's mind.
Thanks to the leadership of Gov. Daniels and many initiatives passed by the Indiana General Assembly in recent sessions, Indiana is paving the way for job growth. Because of these efforts, we have one of the best pro-business climates in the Midwest, and even the United States.
But while Indiana may be better off than most, we still have residents struggling to put food on their tables. There is one simple change we could make in state law that would put more Hoosiers back to work: Make Indiana the nation's 23rd right-to-work state.
Under current law, Indiana employees can be required to pay a fee to a labor union as a condition of employment, whether or not they choose to join the union. Right to work protects individual employees' right to decide whether to have a portion of their paychecks deducted to pay union dues.
Economic development professionals and site-selection consultants tell us this is by far the most beneficial change we can make to attract new jobs to Indiana.
PHH Fantus, the nation's leading business-relocation firm, reports that at least half of all businesses automatically eliminate non-right-to-work states when expanding or relocating. None of our surrounding states has right-to-work laws. Adopting one in Indiana essentially would make us an island of job growth when competing with other states.
Opponents of right to work like to call it "right to work for less," pointing out that the average weekly wage in the existing right to work states is less than other states' wages. But many states without right to work also happen to be in high-cost-of-living areas such as the West Coast and Northeast. Adjusted for cost of living, the average weekly wage in right-to-work states is $734, compared with $692 in other states.
Meanwhile, unemployment rates on average are 10 percent less in right-to-work states. The average unemployment rate in October for right-to-work states was 8.0 percent compared with 8.8 percent for the others.
The most recent state to pass a right-to-work law was Oklahoma, in November 2001. Within a year, Oklahoma had zoomed from the bottom third of the nation in job growth to No. 1. During that time, real incomes rose, the number of Oklahomans covered by employer-paid health insurance increased (bucking a national trend in the opposite direction), and the number of Oklahomans living in poverty fell.
Over the last decade, gross domestic product and personal income growth rates, on average, have been higher in right-to-work states. Private employment in right-to-work states has grown 3.7 percent compared with a decline of 3.3 percent in non-right-to-work states. By almost every meaningful measure, right-to-work states have been outpacing other states for decades.
Indiana's December 2010 revenue forecast predicted only modest growth over the next two years, leaving the state with a large structural deficit. Right-to-work may not solve the problem entirely, but it would certainly encourage business investment in Indiana, adding jobs and thus increasing state revenue.
Public support for a right-to-work law in Indiana tops 70 percent. In fact, some polls show that as many as half of union households support a right-to-work law in the state because it makes the union leaders more responsive to the rank-and-file members.
With the economy soft and evidence clear that a right-to-work law would bring jobs to the state, it's time for the General Assembly to pass the legislation.•
____________
Torr, who represents House District 39, which includes parts of Carmel, Fishers and Westfield, is a co-author of right-to-work legislation. He also is a client executive at Hylant Group. Send comments on this column to ibjedit@ibj.com.
Please enable JavaScript to view this content.