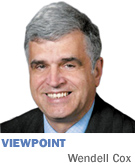 Legislation will likely be introduced in the Indiana General Assembly to abolish township governments and consolidate their functions into counties. As in the past, the proponents claim this would save money for taxpayers. Nothing could be further from the truth.
Proponents of consolidation believe "bigger government costs less," a view simply not supported by the facts. They base their predictions on academic studies and agenda-driven blue-ribbon reports, and make absurd claims like the citation in IBJ's Oct. 23 editorial of a "statistical model" that estimated "abolishing township government would save near $425 million a year." That would be a tall order, since 2007 federal data says Indiana townships didn't even spend that much.
The reality is that local government consolidations have generally resulted in higher taxes and more spending. Spending per capita increased after consolidations in Jacksonville, Fla.; Nashville, Tenn.; and Athens-Clarke County, Georgia.
In Canada, Toronto consolidation advocates glowingly predicted large savings, but in fact, taxes rose, staff was added and, now, 12 years after the fact, some are calling for restoring the abolished local governments. The Halifax, Nova Scotia, consolidation was supposed to save money, but per-capita taxes and spending rose after consolidation.
Indianapolis is often cited as a model for municipal consolidation. Yet Mayor Greg Ballard's "100 Day Report" in 2008 indicated that Indianapolis "has lived beyond its means in recent years, and it is on an unsustainable financial path." Not long before this, state taxpayers assumed the obligation for approximately $1 billion of future police and fire pensions.
Even before the great financial crisis, a structural deficit of $361 million was predicted by 2012. Further, the city's latest comprehensive financial report (2009) indicates a net (unfunded) pension and post-retirement liability of approximately $1 billion. This is after borrowing $100 million in 2005 to pay down the unfunded pension liability.
None of this was sought or anticipated by consolidation promoters, or the committed and talented elected officials who have followed.
Why do government consolidations virtually never produce cost savings?
Perhaps the most important reason is the necessity of "harmonizing" wages, salaries and employee benefits. Labor costs are by far the largest cost element for local governments. Inevitably, consolidations raise the compensation of comparable employees to the highest rates that existed in the pre-consolidated governments.
This is a particular risk in Indiana, where the abolishment of townships could lead to the eventual replacement of the many volunteer fire departments in more lightly populated areas with the career fire departments typical in urban centers. Ultimately, this could cost taxpayers $400 million to $1 billion more annually.
Elected officials in smaller governments can manage budgets and operations more directly. Part of the reason is the smaller scale itself and the fact that they are closer to voters. Further, residents have greater access and can often personally contact their elected officials, rather than staff members whose careers do not depend on satisfying voters. Moreover, less access for citizens means greater access for well-funded interest groups.
Indiana is a local-democracy state. Only 14 states have a smaller population per government employee than Indiana. If the "bigger government saves money" theory is right, then only 14 states would have higher state and local taxation per capita. Indiana does much better than that. In 2008, 32 states had higher per-capita tax levels. If taxes are too high in Indiana, too many local governments is not the cause.
Ivory-tower statistical models cannot reliably predict the performance of consolidated governments. The interplay between human factors like people, organizational cultures and politics determines the outcomes. It is time to move from pre-conceived theories to reality.•
__________
Cox is principal of Demographia, an international consulting firm in St. Louis and a visiting professor at the Conservatoire National des Arts et Metiers, a national university in Paris. He has produced a number of reports on local governance and local government finance.
Please enable JavaScript to view this content.