We'd been greeted and seated at Carmel newcomer Donatello's Italian Restaurant (9 W. Main St., 564-4790) before we noticed the decorative oddity in the cozy dining room: carpet. And beige carpet, at that.
It's not often you see—or notice, anyway—such plush flooring in a business that serves red wine and marinara sauce. And while we can't imagine the carpet will last long, it's part of the homey atmosphere that could give the restaurant some staying power.
Located just west of Range Line Road in Carmel's Art & Design District, Donatello's is a true family affair. Patrick Aasen runs the kitchen, while his wife, Beth, and their son Adam run food—and presumably mop up spills. Both mother and son tended to us during our dinner there, clearly motivated by more than the prospect of a tip.
My friend and I are both carb junkies, so we welcomed the basket of still-steaming bread that arrived at our table after we ordered—all the better to melt the cold pats of butter that accompanied it. We wondered about lack of an oil-based dip, which is almost ubiquitous at Italian restaurants these days, then noticed it is available at Donatello's, too. For an extra $3.
We stuck with the butter and started with the Toasted Ravioli ($7), cheese-filled pasta pockets that were breaded and deep-fried. Described as a Midwestern take on Italian comfort food, it delivered all that and more. The breading was hearty without being heavy, the pasta firm and flavorful, the three-cheese blend creamy and delicious. Served with a red sauce that clearly didn't come from a can, it set the bar for the main dishes to come.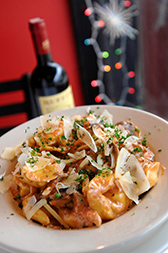 Tortellini Michelangelo features cheese-stuffed rings of pasta in a "blush" cream sauce. (IBJ Photo/ Perry Reichanadter)
They didn't disappoint. My friend chose the Tortellini Michelango ($15)—small cheese-stuffed rings of pasta smothered with mushrooms, onions, bacon and a "blush" cream sauce (think marinara and alfredo combined). The mushrooms and onions cut the richness of the dish without losing a bit of the cheesy
bacon goodness. Only the cold weather kept my companion from returning for lunch the next day.
I opted for the Chicken Artichoke ($19), twin boneless chicken breasts topped with artichoke hearts and warm pistachios in a red wine sauce. The sauce tasted more citrusy than boozy, which was fine by me, balancing out the slight sweetness of the nuts and artichokes. I ate every bite, but sacrificed a bit of the sliced potatoes and broccoli to save room for dessert.
Oh, dessert. Selections change daily, but we hope our choice of the Italian Cream Cake ($4) is on a regular rotation. Despite our fond memories of it, our description doesn't do justice to the white layer cake infused with—but not overpowered by—walnuts and coconut. It was light and rich at the same time, thanks in part to the cream cheese icing, and so moist it literally melted in our mouths. Need I say more?
Donatello's has been open less than a month, so it's undoubtedly a work in progress, but we came away impressed by the early effort—from the solid culinary offerings to the friendly service. It beats the heck out of a chain restaurant any day.•
—Andrea Muirragui Davis
__________
Fourth in our month-long look at restaurants within easy reach of Carmel's new Palladium.
Please enable JavaScript to view this content.