The rough economy has driven the unemployed and those who are about to be to consider a career piloting a big rig. Long hours, days away from family, and menacing government rules help ensure a perpetual shortage of drivers.

A study by the Council of Supply Chain Management Professionals estimates that the industry needs to hire 200,000 more drivers this year.

One reason: Last month, the Federal Motor Carrier Safety Administration launched a program that better tracks a trucking firm's safety record. Drivers with bad records may be shown the door.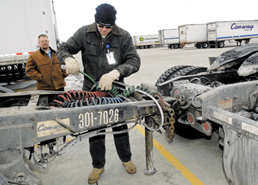 Michael Gullett, right, is a student at Con-way Freight, which allows drivers essentially to work to pay their tuition. (IBJ Photo/ Perry Reichanadter)
"It's said this could cause 4 [percent] to 6 percent of drivers to be eliminated," said Mike Benkert, of C1 Professional Training Center in Indianapolis.

That's good for truck driving schools—or so you'd think. Some schools locally report only a modest increase in enrollment, saying that many of those who inquire don't have the $3,000-to-$5,000 or more for tuition.

In the early 1990s, federal student loans for such vocational training were eliminated after some notable scandals and high default rate. Private tuition lending also dried up.

While interest in learning to drive a big rig picked up after the economy tanked, "the problem is, people are broke," said John Priest, a 30-year veteran driver instructor who operates Indianapolis-based Commercial Driving Training Consultants.

Indeed, "the interest is up," said Ken Whittington, a vice president of Tampa, Fla.-based Career Path Training, which operates the Roadmaster Driving School in Indianapolis. "The problem is, the availability of funds for school is not there" as before.

Schools such as C1 Professional Training Center partner with trucking firms, essentially ensuring students have a job waiting after graduation.

In-house training

One of the largest trucking firms in the region, Con-way Freight, recently launched an in-house driver training program that essentially pays for tuition in exchange for students' working on its docks.

Students have to agree to work for Con-way for at least a year, otherwise they owe $3,000 for tuition, prorated for time worked.

Those who agree to work on the docks for a year soon find that's not the biggest obstacle to landing a driving career. The curriculum is challenging—not just a three-week course that gives students a little seat time and a commercial driver's license.

There's up to 12 weeks of classroom time, for four hours a day—plus up to eight hours working on the docks. And by week eight, you'd better know your stuff or you're road kill. Survive to the final weeks and you'll be making actual deliveries.

"In our program, not everyone will make it. If I did that, it would dilute the program," said instructor Aaron McCormick, who tempers his strict expectations with talk about the rewards awaiting those students who persevere until the end. McCormick still shakes his head about how a private driving school he attended in 1999 didn't prepare him for the actual driving part.

"What we will do is teach you to drive," said McCormick, adding that students "will be able to hit any dock in the city" when they're done.

In-house training is nothing new in the trucking industry.

"Generally, that doesn't work out for a company. We've seen quite a few [in-house training programs] that don't make it," said Priest, of Commercial Driving Training Consultants.

Executives of California-based Con-way last year set out to overhaul the company's inconsistent training programs at 65 of its facilities nationwide.

Some programs ran eight weeks, others 12. Content wasn't consistent, either, said Brad Penneau, senior manager of safety training for the company. So Penneau was tapped to investigate the best practices of the most successful schools in the country and to incorporate them into a standardized program at Con-way operations nationwide.

Before, the Indianapolis facility would team would-be drivers with a mentor, said Darrin Black, manager of the Indianapolis facility.

"Indy has a real need for drivers, so [classes] are running pretty much consistently," Penneau said.

Still short of drivers

The driver shortage is counterintuitive when you consider that thousands of veteran drivers lost jobs in the recession. An estimated 150,000 trucking jobs have been eliminated since early 2008 as shipping volumes fell and trucking companies went bust.

But many veteran drivers resent having to work the docks to load and unload cargo, something Con-way's less-than-truckload sector requires.

Unlike over-the-road drivers who make the long hauls and generally leave cargo workers to handle the goods, Con-way's LTL drivers drive shorter distances and work the docks, as well. Con-way's tractors also pull two or sometimes three smaller trailers rather than the standard, 53-foot trailer.

It's not just aspiring drivers who haven't learned to pull those double trailers—same goes for many veteran, over-the-road drivers.

Penneau said the more rigorous training has its rewards for his company. To the extent students are better trained, they're less likely to damage trucks or cargo and drive up the company's insurance rates.

They also learn good habits from the start, such as how to shift to optimize fuel economy. Fuel is Con-way's second-highest expense.

"We're taking people who literally don't know what a truck is," Penneau said, and making them as capable as some seasoned drivers in short order.

"I had never driven a truck before," said Mike Gullett, a Con-way student in his fourth week, while taking a lunch break. Gullett used to work in a foundry and is accustomed to the shipping-and-receiving atmosphere, plus he can drive a forklift.

By the end of this year, such students will become Con-way's primary source of new talent, Penneau said.

Whether Con-way's approach will catch on is hard to say. Many trucking firms conduct short-term training of their own—a finishing school, of sorts—for those who recently earned their CDLs from private driving schools.

Those schools often can no longer afford to provide turnkey driving instruction. They've been forced to shorten their programs to around three or four weeks (some college-based driving programs, such as that of Vincennes University, still run about eight weeks).

Years ago, eight to 10 weeks was the norm, said Priest of Commercial Driving Training Consultants. That was before federal loans for short-term vocational training were ended.

What's clear is the industry still needs more drivers.

"We have the jobs, no question. We're bringing people into the industry who would have never considered driving a truck, ever," Priest said.

Benkert said applications at C1 "went through the roof" late last year when it looked like Congress wouldn't extend unemployment benefits.

That interest faded after Congress finally extended unemployment benefits.•