Indianapolis is offering another city-owned facility for lease in hopes of generating more cash for the parks department.
Indy Parks & Recreation officials on Monday issued a request for proposals to lease the Riverside Marina facility near 30th Street and White River parkway behind the historic Heslar Naval Armory. They're open to ideas about what will go in the space, but hope to get business plans suggesting uses that will draw in patrons of the nearby Canal Towpath and White River Park Greenway.
"You've got a great location for people biking and walking, and just out and about," said Jennifer McGilvray, a spokeswoman for Indy Parks. "We want something that serves the community. We really don't want office space in there."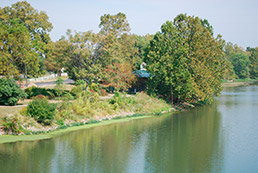 Indy Parks' Riverside Marina property (Photo courtesy city of Indianapolis)
The site is one of several the city has put up for lease in recent months as the parks department looks for ways to buoy its dwindling budget. Indy Parks will receive about $21.1 million in funding this year, an amount that's virtually flat over last year's $21.4 million in projected spending, but down from the $26 million the department received in 2009.
Indy Parks currently leases space used by Rick's Boatyard Restaurant at Eagle Creek Reservoir and the Broad Ripple Ice Cream Station on the Monon Trail.
The department also is looking to find users for facilities such as the Major Taylor Velodrome cycling venue northwest of downtown and a former dress shop on the Monon Trail in Broad Ripple. The city remains in negotiations with potential users for both spaces, McGilvray said.
Indy Parks also twice proposed leasing out a former railroad station near 38th Street and the Monon Trail but did not get appealing responses.
The Riverside Marina, which overlooks the White River, was leased as a restaurant and boat-rental facility in the 1990s. Up until 2008, the city let the 1,600-square-foot space be rented for events such as weddings and family reunions, but it has not been in use for the last couple of years.
The facility has a kitchen and two rooms and a patio suitable for events hosting up to about 100 people.
The new request for proposals seeks a 10-year lease with an option to renew for an additional five years. How much money the space could generate for the city depends on how it's used and what those pitches suggest, McGilvray said.
Facilities such as the Monon space were initially estimated to garner as much as $30,000 annually.
 
"There are so many different options available in terms of how it could be used," McGilvray said. "That's what the RFP will help establish."
She said the department is not currently eyeing other specific facilities to be offered for lease, but reviewing the possibility is an ongoing process.
The city will begin reviewing proposals for the space after the Feb. 28 deadline. The time line for selecting a potential tenant depends on the responses, which likely would take several weeks to review.
Leases for any parks facility must be approved by the City-County Council.  
Please enable JavaScript to view this content.