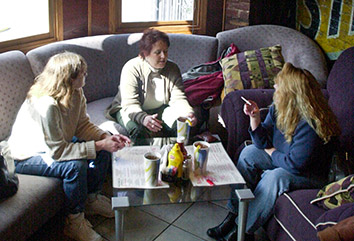 Indiana's proposed statewide smoking ban got a lot looser Monday as the House decided to exempt bars, fraternal clubs and nursing homes in addition to casinos.
Casinos already were exempt from the proposal, but the GOP-controlled House voted 56-33 on Monday to exempt bars that don't allow anyone under age 21 to enter. The House also made exceptions for nursing homes and fraternal clubs, which could create separate smoking areas under the bill.
Rep. Charlie Brown, a Democrat from Gary who is sponsoring the bill, said the exemptions water down the proposal. He said he'll keep pushing the bill through the legislative process, but hopes to remove some of the loopholes as lawmakers work on a final compromise.
He said major cities and many other states have comprehensive smoking bans, but Indiana lawmakers have been slow to act.
"It's just mindboggling how we are so backwards," Brown said.
The exemptions for casinos and horse racing tracks was approved earlier this month after the nonpartisan Legislative Services Agency said banning smoking in gambling establishments could cost the cash-strapped state about $190 million a year. On Monday, some lawmakers said it was unfair to exempt them from the ban without exempting bars — especially those in the same towns as casinos who could lose business if smokers decided to hang out at casinos instead of their establishments.
"What's fair for the big guy ought to be fair for the little guy," said Rep. Scott Pelath, D-Michigan City.
Rep. Dick Dodge, a Republican from Pleasant Lake who sponsored the amendment to exempt bars, said mom-and-pop bars and taverns were afraid of losing business.
"It's a private business," he said. "They should be allowed to choose."
Brown and other supporters of a more comprehensive ban said the bill was about protecting workers, and that those who work in bars shouldn't have to choose between their health and their jobs.
The exemptions for nursing homes and fraternal clubs were made after lawmakers said veterans and those living in nursing homes should have the right to smoke in certain areas.
Republican Gov. Mitch Daniels has said he would sign a smoking ban into law if the Legislature approves one, and Brown says he's confident the bill could move further through the Statehouse this year than it has in previous years.
"This whole place is about the friendly art of compromise," he said.
The House could vote on the relaxed smoking ban as early as Tuesday.
Please enable JavaScript to view this content.