Ball State University's Indianapolis Center played host to an international summit on higher education in Afghanistan Jan. 25 and 26.
The Afghanistan Ministry of Higher Education is trying to build up the higher education system in Afghanistan after more than 30 years of near constant warfare, including the ongoing presence of American armed forces. So the Afghans are looking for partnerships with North American universities and their professors.
Five delegates from the Afghanistan Ministry of Higher Education attended the event, along with six representatives from Afghan universities: Kabul University, Kabul Polytechnic University, Kandahar University, Khost University and Herat University.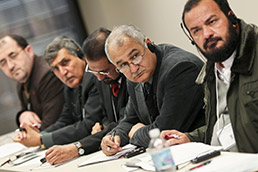 Education officials from Afghanistan came here Jan. 25-26 to discuss partnerships with North American universities. (Courtesy Ball State University)
Also, more than a dozen U.S. and Canadian universities participated. The conference was funded by grants from the Canadian Department of Foreign Affairs and International Trade and the Public Affairs Section of the U.S. Embassy in Kabul.
Ball State was chosen as host for the summit by the U.S. Department of State's university linkages program, which tries to help institutions in Afghanistan and Iraq. Ball State has received two $1 million grants to help Kandahar University in Afghanistan develop economics programs emphasizing free market principles and entrepreneurship and to help revamp the curriculum at Tikrit University in Iraq.
 
Please enable JavaScript to view this content.