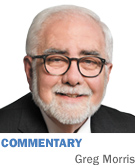 As the debut of the Palladium in Carmel has taken center stage, I have been reflecting on the amazing ascent of what used to be a sleepy town. Extensive press coverage and well-deserved accolades being bestowed upon the Palladium combined with a recent birthday (I turned 55) have me in a reflective mood.
I'm old enough to remember when Carmel was mostly a patchwork of farms and cornfields. The downtown area, which is now home of the Arts & Design district, was populated by just a few buildings. You could drive from one end of town to the other in less than 10 minutes.
More than just Carmel, Hamilton County as a whole has had an amazing transformation. Certainly Fishers, Noblesville and Westfield have many accomplishments to boast about. The entire county has grown tremendously.
I can speak with some authority on this subject as I am a lifelong resident of Carmel and Hamilton County. I went through the Carmel school system, as did my three kids. The school system is a little larger today than when I attended. And with an enrollment of more than 4,400, Carmel High School is larger than many colleges and has an excellent reputation for academics and successful sports programs.
The transformation in Carmel did not happen by accident. Excellent leadership has been at the forefront of this progression. All the way back to Al Pickett, Carmel's first mayor—followed by Jane Reiman, Dottie Hancock, Ted Johnson and Jim Brainard—great vision has been a consistent attribute of Carmel's mayors. The succession parallels that of Indianapolis and all the great mayors we've had that have demonstrated vision and courage to make our city what it is today.
My kids grew up as frequent guests at Ted Johnson's home. Ted was mayor of Carmel from 1992 to 1995. There were a lot of weekends spent out back by the pool watching our kids swim and talking about the issues of the day. It was such a great time in all our lives. That was probably the first time I was keenly aware of all that was going on in Carmel. I like to think that Johnson got things rolling for Carmel, then Jim Brainard picked up the baton and ran with it. And, oh, how he has run.
As with any high-profile position, you're going to have fans and detractors. Brainard certainly has his share of both. There's not a lot of middle ground here. The biggest complaints have revolved around his intense focus on accomplishing his objectives and the amount of money it takes to do that. However, Carmel is blessed with a very healthy tax base and property tax rates remain extremely low, especially considering all the available amenities.
It is hard to deny that the mayor has accomplished some amazing things that have enhanced life in Carmel. All those roundabouts some people make fun of really do keep traffic moving. In the past, it could take well over 30 minutes to get east to west across town. The Keystone Parkway project was a pain during construction, but now enables you to drive south to north from 96th Street to 146th Street without hitting a stoplight. Yes, it took some very expensive roundabouts to accomplish this.
The previously mentioned Arts & Design District, the Monon Center that came along with the extension of the Monon Trail, The Carmel City Center, The Center for Performing Arts with the amazing Palladium as the centerpiece and the soon-to-open Studio Theater and Tarkington Theater are all wonderful amenities that have blossomed during Brainard's tenure.
Agree or not with all the methods, Carmel is a city on the move and is a great asset for our region. Space does not allow me to address how important the region is as a whole to the success of all of us, no matter where we live or work in the area. Downtown Indianapolis has to be healthy for Carmel to be healthy. I love working in downtown Indianapolis, and I am pleased to live in Carmel.
It's a relationship that works in concert together. On that note, catch a show at the Palladium. It's an awesome venue and I think you will have an experience like none other.•
__________
Morris is publisher of IBJ. His column appears every other week. To comment on this column, send e-mail to gmorris@ibj.com.
Please enable JavaScript to view this content.