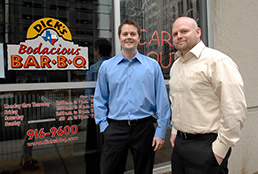 Robert Baer, left, and Joel Curts founded DailyLunchDeal, which offers special prices at area restaurants. (IBJ Photo/ Perry Reichanadter)
Robert Baer and Joel Curts were early users of the coupon site Groupon. The frequent offers for spa treatments and other services didn't catch their attention, but they regularly bit on the restaurant deals.
The offers helped them expand their dining universe beyond usual haunts such as the home-grown Ralph's Great Divide and sports-bar chain Buffalo Wild Wings.
It also got the sales reps for Angie's List thinking: Why not start a coupon site focused solely on dining?
The pair spent five months and almost $15,000—mostly on programming their own coupon platform—to launch DailyLunchDeal.com on Jan. 24.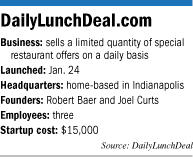 The site, which they run from their homes, collected more than 5,000 e-mail addresses before the first deal went live, mostly through referrals from social networking sites. More than a dozen restaurants including Red Lion Grog House, Arni's and Pearl Street Pizzeria have agreed to post offers in January and February.
DailyLunchDeal joins a crowded and growing field of coupon competitors emboldened by Google's spurned $6 billion offer for Chicago-based Groupon. The first offer for DailyLunchDeals shows just how fierce the competition has become.
The deal—$4 for $10 of food from Dick's Bodacious Bar-B-Q—landed 119 buyers, an impressive first-day showing. The No. 2 competitor, Living Social, posted a similar offer for Dick's on the same day and sold 396 coupons.
Two coupons in one day wasn't the original plan, but the way it worked out didn't worry Dick's owner Jason Kocher.
"The goal is to keep traffic up during a slow time when not a lot of people are thinking about barbecue," said Kocher, who offered a Groupon about five months ago. "With barbecue, volume is important so we can keep the food fresh."
Kocher was a little hesitant at first about partnering on DailyLunchDeal's first coupon, but he figured he'd help "local guys trying to get a new concept off the ground."
The margins aren't great from customers bearing such coupons, but the goal is to generate repeat business, he said.
One way DailyLunchDeal hopes to differentiate itself is by keeping only 38 percent of the take from coupon sales, versus 50 percent for Groupon.
Another priority is community ties: DailyLunchDeal plans to donate 10 cents to Riley Hospital for Children for each person who likes the site on Facebook or follows it on Twitter in January or February, regardless of how they found the site.
The venture is promising and appears off to a strong start, said Kyle Lacy, principal in locally based Mindframe and a social marketing guru. But he said the key challenge will be to keep the customer base growing and the offers up to date and attractive compared to a bevy of competitors, including a fresh offering from Google.
He said the service could build its customer base by developing a loyalty program on social media that rewards the "influencers" who generate the most sales and compiles data to help restaurants retain their new customers.
"The first challenge is to get a mass of people in Indianapolis using it, and their second challenge will be how to transfer it out to other cities," Lacy said.
DailyLunchDeal's goal in Indianapolis is to get more residents for its site than any other coupon competitor, and achieve a conversion rate of 2 percent among subscribers. Across similar sites, the average offer achieves a 1-percent conversion, while dining deals often range between 2 percent and 5 percent, Baer said.
Stay-at-home mom Jenny Mosier found DailyLunchDeal through a friend on Facebook.
"I like to be able to join my friends for lunch once a week, and if this is a way I can do it a little cheaper, that's great," said Mosier, who surfs several coupon and deals websites.
But the urgency to snap up lots of deals in the early days of Groupon has subsided for Mosier, who says it is possible to over-spend on the social coupons.
"If you don't have $10 to spend on a great deal, it's not a great deal," Mosier said. "I try to be a little picky, but at the same time if I know it's something I will use, I will buy it."•
Please enable JavaScript to view this content.