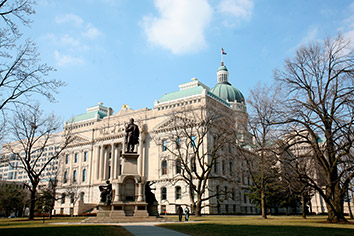 Indiana lawmakers are working quickly to help fix the state's bankrupt unemployment insurance system in enough time to give businesses a tax break.
The House could vote as early as Monday on the proposal to cut jobless benefits for some people and lessen the increases in state unemployment taxes on businesses. If the GOP-ruled House approves the plan, it will go to the Republican-led Senate.
Senate President Pro Tem David Long of Fort Wayne says lawmakers want to pass a plan quickly so that new first-quarter tax bills can be sent to businesses. Those bills would be lower than the bills already sent out.
The proposal is meant to fix Indiana's unemployment fund, which pays out millions of dollars more in jobless benefits than it takes in through employer taxes.
Please enable JavaScript to view this content.