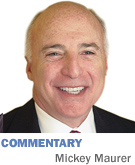 Now that football season is over for most central Indiana fans and the adoration of No. 18 has temporarily abated, I suggest we turn our attention to a real hero, Gregg Keesling, CEO of Workforce Inc., an organization that populates practically its entire work force with ex-offenders.
Workforce Inc. is a social enterprise business. A social enterprise business is one that not only strives to make a profit, but has a social purpose. Goodwill Industries is another example. (I have often thought what a wonderful idea it would be if every corporation adopted a social enterprise goal as part of its mission.)
Workforce Inc. recycles electronic waste. On a typical day, a pleasant and polite army of modern-day miners using drills, pliers and wrenches deconstructs electronics into their basic components. These components are sold to metal processors who remake the materials into new products. Established more than seven years ago with only two employees, Workforce Inc. has grown to an operation grossing nearly $2 million a year with a payroll of 50 employees. They have processed in excess of 10 million pounds of TVs, computers, monitors and the like.
Employment is the foundation for successful re-entry. Most ex-offenders have no work history and, left to their own devices, will take the easy path and do what they are proficient at—committing crimes. Workforce Inc. addresses that problem. Since its inception, Workforce Inc. has employed more than 380 formerly incarcerated individuals. The recidivism rate for these individuals has been tracked at 15 percent, a dramatic improvement over the national norm of more than 60 percent.
Workforce Inc. recycles human beings. It retains its employees only six months, during which time they are provided counseling, training and encouragement. It is a haven where knowledge, self-respect and confidence are fostered. Workers who have completed their transitional jobs at Keesling's company have moved into positions in construction and labor unions. Some have become managers for local commercial and recycling businesses, and some work for human service agencies that assist ex-offenders and low-income residents.
In an ironic twist, Workforce Inc. is in the old RCA plant, the one that made television sets. Now, like salmon swimming upstream to spawn, the old TVs come back to the RCA plant to die. But out of the pile of metals harvested from discarded electronic devices, arising like the phoenix, are a host of redeemed lives.
Shawn Hendricks (introduced to you in my June 4, 2007, column) and I have been working through a number of barriers related to his re-entry experience. In an effort to assist Shawn with these challenges, I investigated city and state government and non-government agencies, including faith-based institutions. I concluded there was little interest in placing ex-offenders who have served time for violent crimes—until I met Gregg Keesling. Keesling is a battler, and battle he has. His innovative concepts have, at times, created conflicts with prosecutors, judges, parole and probation officers and other entities dealing with a seemingly broken system.
The reincarceration of hundreds of thousands of felons each year who have served their time has become a recognized policy issue for national, state and local governments. In Indiana, Gov. Daniels is investigating proposals and ideas. I suggest the creation of an adequately funded state government organization in charge of recidivism.
As part of its mission, it should use Workforce Inc. as a template to establish like enterprises throughout the state. It should also provide financial incentives to employers that reconnect ex-offenders to the world of work and assistance to employers that successfully out-place those employees.
Recidivism is a heartbreaking and expensive problem that affects law enforcement, prison administration, social service agencies and much more. Solving this dilemma will not only help society, but will also save the souls of our fellow men. Salute with me a person who is doing just that, Gregg Keesling.•
__________
Maurer is a shareholder in IBJ Corp., which owns Indianapolis Business Journal. His column appears every other week. To comment on this column, send e-mail to mmaurer@ibj.com.
Please enable JavaScript to view this content.