City leaders want to hire an outside vendor to manage special events on the walkway along the Central Canal.

The city put out a request for proposals from bidders late last month seeking companies that would schedule and oversee events such as weddings and Fourth of July celebrations on the city-owned portion of the walkway. It runs from south of Ohio Street to 11th Street.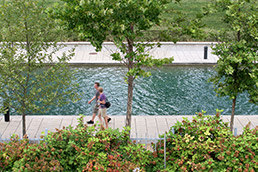 The city held 22 events on the canal in 2010. (IBJ File Photo)
Responses are due later this month.

In recent years, the city has received a percentage of revenue from vending, sponsorships and admissions for events that occur along the canal. The city also charges a fee from $250 to $1,000 for use of the space. Revenue collections have ranged from as little as $2,000 a year to more than $12,200 last year.

Those submitting proposals would detail how revenue would be shared.

Last year, the city held 22 events on the canal, ranging from the Walk to End Child Abuse to Radio One's Gospel Fest.